By Jeroen van Barneveld
---
Feb 04, 2023 at 7:18 PMUpdate: 5 minutes ago
A very strong Fem van Empel succeeded Marianne Vos as cyclocross world champion on Saturday. In everything, the stoic Brabantse resembles her teammate at Jumbo-Visma. With her rival Puck Pieterse she is entering a new cross era. "Their technique is fabulous."
She looks around. And one more time. But no matter how often twenty-year-old Van Empel looks over her shoulder on the Scheldeweg in Hoogerheide, she does not see anyone driving behind her. She shakes her head in disbelief as she drives towards the line. She slams her hands against her helmet.
A nerve-racking duel between Van Empel and Pieterse was expected in the mud in Hoogerheide. This season, the two peers have often fought a titanic battle, as Mathieu van der Poel and Wout van Aert do with the men.
At the beginning of the cross it seemed to turn out that way, despite the fact that Pieterse fell back a long way at the start because she slid off her trapper. When Pieterse fell in the woods halfway through the race, Van Empel had flown and she rode supremely to her first world title.
On the line, the Brabantse was no less than 39 seconds over Pieterse, with which she ended her wonderful year in style. She became European champion in November, took the overall victory in the World Cup classification last month and now a world title has been added.
Her numbers are impressive this season: she won fourteen of the 22 cyclocross races in which she participated. With every cross she finished, she ended up on the podium. It is a dominance that is reminiscent of fellow provincial Vos, who was absent from Hoogerheide due to physical problems.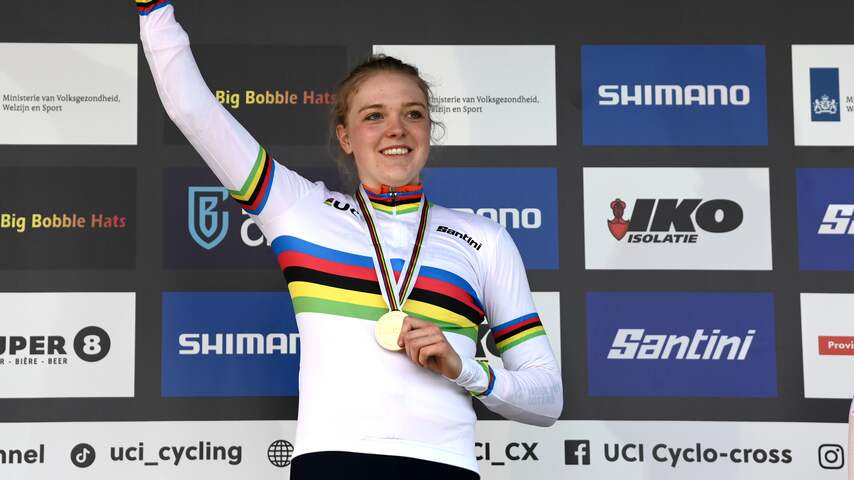 Fem van Empel is the new cyclo-cross world champion. Photo: Getty Images
"Often think I'm looking at the new Vos"
After Van Empel's European title, Jurgen Mettepenningen said he saw many similarities with eight-time world champion Vos. Until January 1, the Belgian was Van Empel's team boss at the Belgian cross team Pauwels Sauzen-Bingoal. She then switched to Jumbo-Visma, for which Vos also rides.
"When I see Fem cycling, I often think: we are looking at the new Vos," Mettepenningen said to the Belgian newspaper De Standaard. "She has the same bike and the same sprint. And she's just as all-round."
Just like Vos, Van Empel did cross country and mountain biking in her younger years. After a holiday in Marrakesh, she also started to focus on road cycling. In April she will ride the Walloon and Brabantse Pijl, among other things: hill classics where she can optimally capitalize on her explosiveness.
Van Empel showed last year that there is a lot of potential in a road career. She was third in July at the European Championships for U23 while she had barely ridden a road race. It all fits in with the comet-like advance of Van Empel, who was still a football star three years ago and had cross country as a hobby.
That does not mean that Vos is Van Empel's great example. The Brabant has no examples. She also did not choose Jumbo-Visma because of Vos. That was mainly because she can dominate all disciplines with the team. Eventually she wants to ride the Tour de France one day.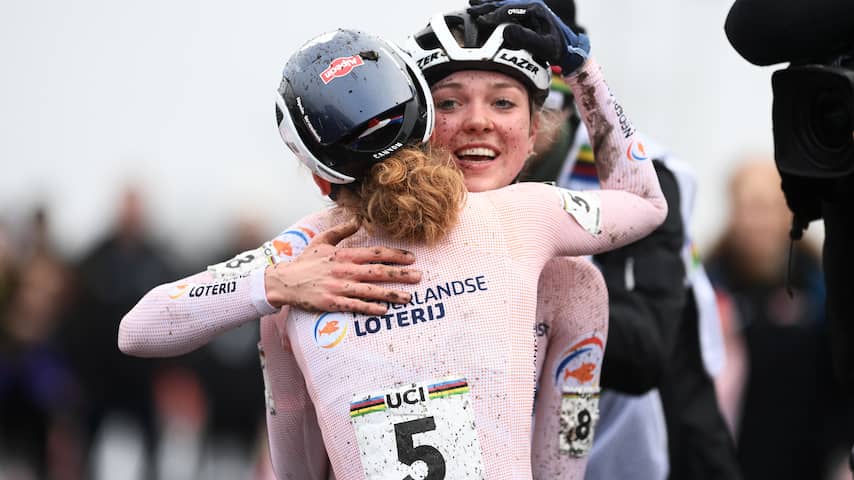 Van Empel receives congratulations from her rival Puck Pieterse afterwards. Photo: Getty Images
Brand: 'I don't feel hopeless'
With the rise of Van Empel and Pieterse, a transfer of power has taken place in women's cross. The twenty-somethings are now the best in the discipline that was previously dominated by Vos (35), Lucinda Brand (33) and Ceylin del Carmen Alvarado (24).
"I don't feel hopeless," said Brand, who finished third behind Van Empel and Pieterse. "Of course things get less as you get older. The main difference is that young riders are cycling earlier and earlier these days. Their technique is much better as a result. It's almost like heaven."
Van Empel heard it all with a smile at the medal winners' press conference. With the Brabant woman, a weight had visibly fallen off her shoulders now that she had lived up to the high expectations.
An hour after her victory, Van Empel did not yet realize that she can race in the rainbow jersey for a year. Exactly what Vos did last season.
---
---