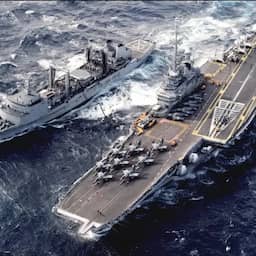 Brazil sank an old and damaged aircraft carrier containing asbestos in the Atlantic Ocean on Friday. Environmental activists have long protested the country's plans. According to the authorities, there was no alternative for the sixty-year-old ship that had been out of use for some time.
The activists say the aircraft carrier contains tons of asbestos, heavy metals and other toxic materials. They are harmful to the marine food chain. Sinking the toxic ship in the Atlantic Ocean is therefore in violation of three international environmental treaties, according to the activists.
Brazil bought the 266-meter aircraft carrier in 2000 for $12 million from France, which operated it for 37 years. A Turkish company bought the vessel in 2021 to scrap it. As the ship approached the Mediterranean Sea, Turkey withdrew its permission. The ship was then returned to Brazil, but it was also not allowed to dock there because of the major environmental risks.
The Brazilian navy towed the warship to a location about 350 kilometers from the coast. There the ocean is 5,000 meters deep. According to the authorities, that was the safest area to sink the aircraft carrier.
---
---