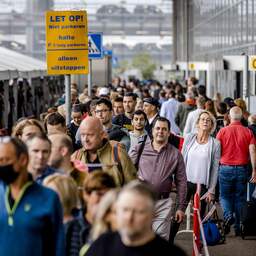 Of the more than 61 million passengers who traveled through Dutch airports last year, three quarters were on a flight within Europe. Spain is the most flown destination, followed by the United Kingdom. Those countries together accounted for a quarter, Statistics Netherlands reports.
Before the corona pandemic and Brexit, the UK was still number one. Outside Europe, the US is the most popular flight destination.
Last year, a total of 61.3 million passengers traveled to and from the five Dutch airports: Schiphol, Rotterdam The Hague Airport, Eindhoven Airport, Maastricht Aachen Airport and Groningen Airport Eelde. In the course of last year, airlines at Schiphol had to move and cancel flights due to the crowds and staff shortages.
According to Statistics Netherlands, Monday 1 August last year was the busiest day at the airports in our country with 221,000 passengers. In August, 6.4 million people traveled to and from the Netherlands. That is about 10 percent of the total in 2022.
---
---