It was Fem van Empel's big dream to one day play as a footballer for Bayern Munich. Three years after giving up her football career, the Brabant is a star in cyclocross. A profile of a maniacal natural talent who will start the World Cup on Saturday in Hoogerheide as a favourite.
She's a striker. Moving, fast. Targeted too. When the wingers of RKSV Nuenen give a good cross towards the blonde attacker with shirt number 14, they actually already know that it will be a goal.
Van Empel is fifteen years old when she ends up in the first team of RKSV Nuenen. The team then plays in the First Division, the fourth level of the Netherlands. Van Empel is talked about a lot at Sportpark Oude Landen: she is the club's great talent.
Van Empel only wants one thing: to become a professional football player. Her big dream is to play for Bayern Munich. She's all for that. In addition to training at the club, she goes to the gym and watches videos on YouTube to improve her technique.
It is quite illogical that Van Empel started playing football, because she is destined to become a cyclist. At the age of three she can already cycle without training wheels. She also comes from a cycling family. Father Jean-Paul was a cross racer for many years, uncle Ad founded the bicycle brand Empella Cycling and cousin Micki rode for the Belgian team of former world champion Bart Wellens.
But Van Empel likes playing football more. She starts with the boys of RKVV Sint-Michielsgestel, because the club has no girls' teams. When she makes the transition to the girls at the age of thirteen, she receives an invitation to the regional talent days of the KNVB. She kicks it to the last twenty.
Van Empel will never become a professional football player alone. She stops playing football at the age of seventeen, because she no longer enjoys it. Father Jean-Paul: "Her teammates went out in the evening, were tipsy on the football field in the morning and danced on the bar after the game. She couldn't handle that. She wanted everyone to live for the sport just like she did. " She scored twice in her last game.
CV Fem van Empel
Age: 20 yearsTeam: Jumbo-Visma (since January 1)Palmares: European champion (2022), world champion with the promises (2021), nine World Cup victoriesNumber of victories this season: 13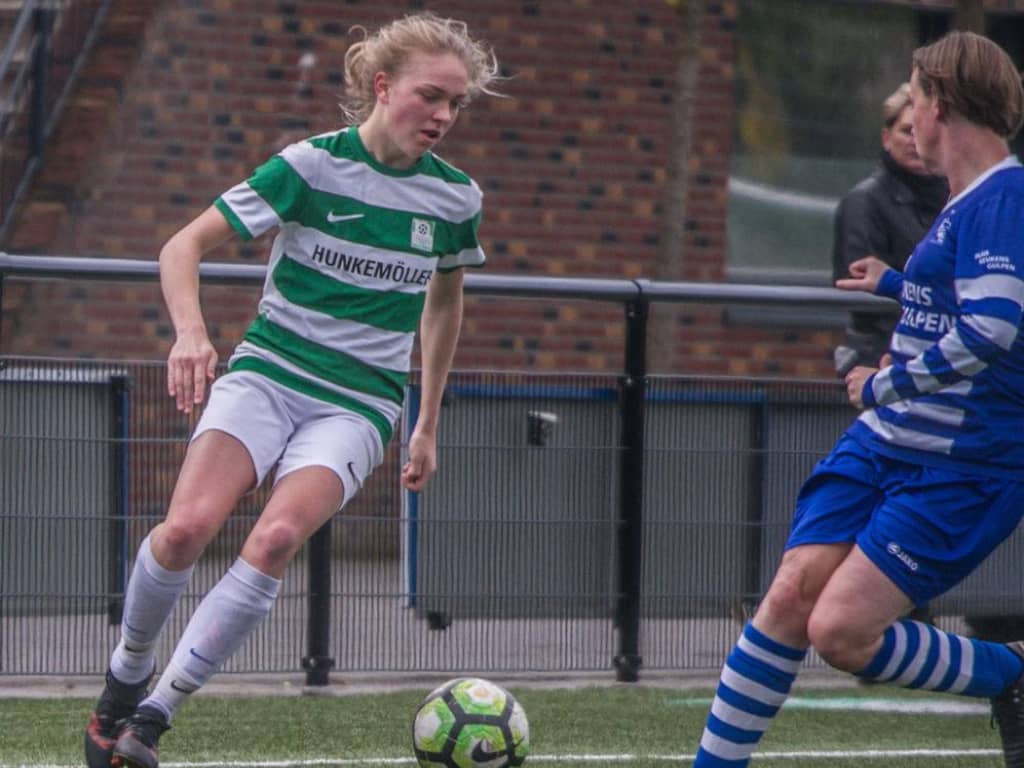 Fem van Empel as a football player at RKSV Nuenen. Photo: RKSV Nuenen
Tears after the first cross training
In November 2019, Aschwin van Oorschot received a message from Jean-Paul van Empel via Messenger. The Van Empels are looking for a cycling trainer for their daughter Fem and still know Van Oorschot as trainer of Micki van Empel. "Call me," Van Oorschot responds. Not much later, he talks to Fem van Empel. Significant, he thinks. "Often the father calls, but she just arranges it herself."
Van Empel tells Van Oorschot that she would like to go cycling. In the summer before, she finished third behind Puck Pieterse and Larissa Hartog at the NK mountain bike for juniors. Even though she hadn't trained for it and had only bought a good bike just before the race. That opened her eyes.
Van Empel has done cycling before then. She starts cross country in the winter break of football. She likes it so much that she will combine soccer with cross country and mountain biking. After the summer of 2019, her parents ask her to make a choice. It is no longer possible for them to drive to a football field and a cross race five times a week. The choice was made quickly.
In Lieshout Van Empel cycles one of her first competitions under Van Oorschot. He tells her afterwards that she has to cycle home to Sint-Michielsgestel, about 25 kilometers away. It is almost dark by then. Van Oorschot does this more often with new pupils to see how riders react to it. If they refuse, Van Oorschot knows what kind of character he has.
Van Empel does it. But when she has to train for another hour and a half the next day, she breaks. Father Jean-Paul: "She called me. She was crying along the road. She had to train so much, she was completely broken. Did she want to stop? She never said that. Not even in her emotion."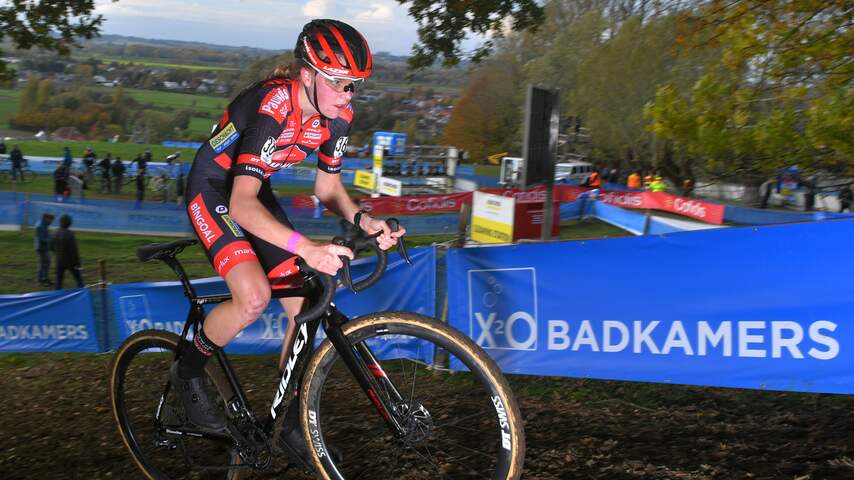 Fem van Empel in one of her first competitions with the elite. Photo: Getty Images
'Perfectionist and extremely disciplined'
National coach Gerben de Knegt immediately notices Van Empel's drive in the first training sessions and matches he sees from her. In this she effortlessly picks up on riders who have been on the bike for years. "She wants to be the best in everything and is very perfectionist."
The then seventeen-year-old Van Empel constantly asks De Knegt questions. What about her nutrition? And height tents? And which cycling gear is the best? De Knegt: "She wanted to know everything. Not all women of that age ask those kinds of questions. There are also girls whose daddy inflates their tires."
When Van Empel gets her teeth into something, she won't let go, her father Jean-Paul knows. "She has a very strong discipline. That has been in it from an early age. I have never had to urge her to go to a training or to go to bed early."
That quickly pays off. Van Empel stuns the cross world at the Junior World Championships in 2020 with a fifth place, while she has only been cycling for a few months.
And then De Knegt had to tell her on the way that the seat post of her bicycle has dropped at least 5 centimeters. As an inexperienced cyclist, she hadn't realized that, so she had fallen back to fifteenth place.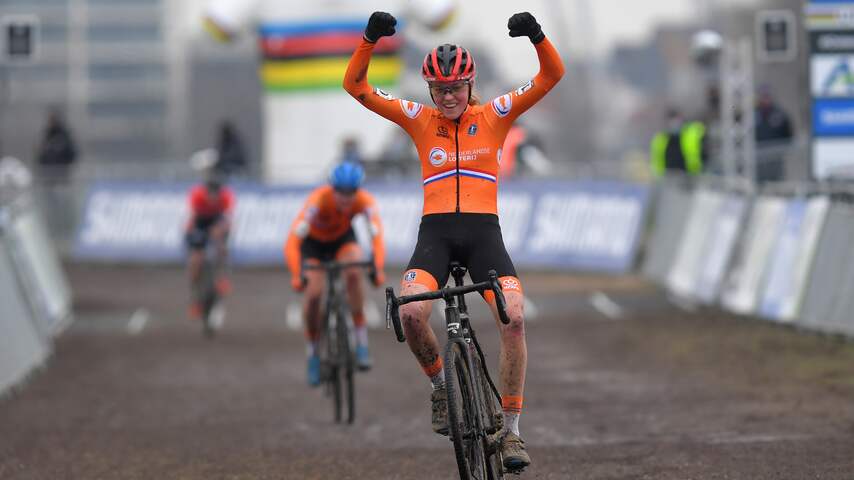 Fem van Empel will be crowned U23 world champion in 2021. Photo: Getty Images
Rainbow sweater hangs above the bed
After that World Cup, Van Empel shoots up like a comet. She earns a contract with the Belgian cross team Pauwels Sauzen-Bingoal, rides to places of honor in elite competitions as an eighteen-year-old and will become world champion among the U23 in Ostend in Belgium in January 2021.
Due to the corona measures, she can never celebrate that world title, although she is still warmly welcomed (at a distance) by acquaintances at home in Sint-Michielsgestel on the sidewalk. She never thought that was a big deal, says her father.
Van Empel does not dwell on victories for long. She does that on stage, when she hears the Wilhelmus. Then she focuses on the next game. Or does she help her parents with the laundry or tidying up the camper. She made an exception for last year's European title. Then she had her family come over for a party.
Van Empel attaches more value to cups and jerseys. The rainbow sweater hangs framed above her bed. It adorns next to the bicycle frame on which she won the U21 world title and a frame from Empella, the bicycle brand owned by her uncle Ad. The cups are stored in a special trophy cabinet.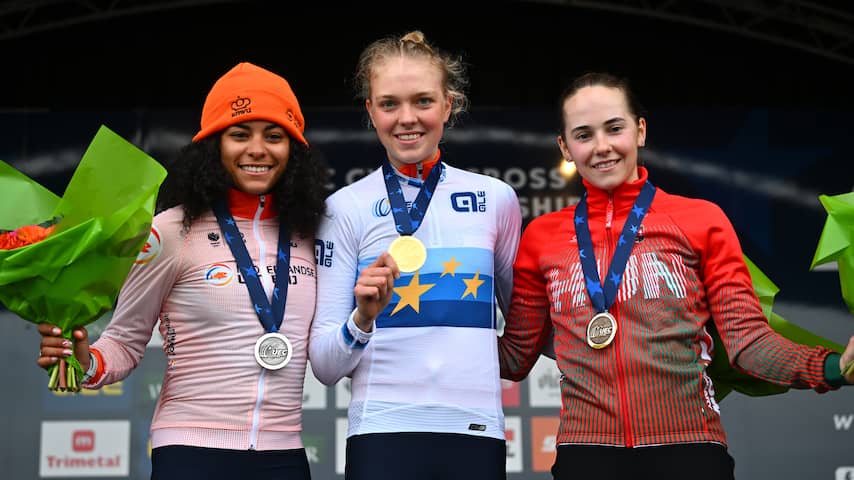 To everyone's surprise, Fem van Empel will become European champion in November 2022. Photo: Getty Images
Success has a downside
For Van Empel, success with the elite starts on December 12, 2021, where she wins her first World Cup competition in the Italian ski resort of Val di Sole. This season she has grown into the queen of the cross with her peer Pieterse, because according to her trainer Van Oorschot she has added a "touch of Lucinda Brand" to her arsenal. She can now also drive at a high pace for longer.
Her honors list this season is impressive: Van Empel wins thirteen races, takes the overall victory in the World Cup classification and finishes on the podium in all twenty races she finishes. The highlight is the European title in November in Namur, Belgium, where she crushes the competition despite a flat tire.
But the European success has a downside. Twenty-year-old Van Empel receives numerous interview requests, while she does not like to be in the spotlight. Columns are written about her, she receives all kinds of messages on social media and she is referred to as the 'new Marianne Vos'. Van Empel reads everything.
Father Jean-Paul: "Everything was shouted in the media. That was difficult for her." Trainer Van Oorschot is even afraid in November that she will cross her limits mentally. He steps on the brakes. Winning is not important anymore and relaxation is necessary. Van Empel is working on a city trip that she will make after the World Cup.
Van Empel receives help with interviews from a Jumbo-Visma press officer, for whom she has been driving since January 1. That approach is working. Van Empel is getting used to her star status, wins her last two matches before the World Cup and, according to Van Oorschot, has a good chance of becoming world champion on Saturday in Hoogerheide.
The girl on the football field at RKSV Nuenen could never have come up with that three years ago.
Also on the road and mountain bike
With her switch to Jumbo-Visma, Van Empel is also increasingly focusing on road cycling. The Brabantse, who finished third at the European Championships on the road for promises last year, will ride the Brabantse Pijl (April 12) and the Waalse Pijl (April 19). Also, her name is in pencil for the Giro d'Italia (June 30-July 9).
A participation in the Tour de France is too early, according to trainer Aschwin van Oorschot. "Her engine is still too small for that," he says. "It's not easy to cycle more than 100 kilometers every day. If it's up to me, she can ride the Tour in 2025 at the earliest."
Van Empel will also try to qualify for next year's Olympic Games in Paris on the mountain bike. She will fight for the two places in the Olympic selection with Anne Terpstra, Anne Tauber and, of all people, Puck Pieterse.
---
---