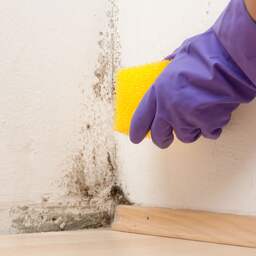 ---
03 Feb 2023 at 21:36
1 in 10 Dutch households suffer from mould. How do you prevent the black stuff from sneaking into your house? And what can you do to get rid of it?
The GGD always receives more reports of mold in the winter, says spokesman Richard Lancee. "Mold thrives on the winter cold. That lasts until March." Companies that fight mold also have more jobs in the winter.
Cleaning company Dolmans, which specializes in mold control, among other things, will even receive a "multiple of the normal number of reports" this winter, says account manager Marcel Bolleboom. "Now that heating costs are so high, people prefer to keep the heating off. They are also less likely to open a window, while that is so important."
Ventilation is essential
Dolmans' mold fighters even often come across taped ventilation grilles, says Bolleboom. "Many people don't know that good ventilation is very important to prevent moisture problems such as mould. Especially with today's high energy bills, people think: how do I keep as much heat inside as possible? Very understandable, of course, but on the other hand, ventilation is essential to prevent mold."
---
Especially in people who are already sensitive to it, mold can exacerbate respiratory complaints.
Harald Wychgel, RIVM spokesperson
---
Fungi grow on organic material, think of the green deposit on the leftover nasi on the counter. But skin flakes on the wall or in the soap residue in the shower are also organic, and therefore a good breeding ground for mould, explains Bolleboom. So it is important to clean properly, especially in humid areas such as the bathroom and the laundry room.
Hay fever-like symptoms
If the mold problem continues to spread despite all measures, it can lead to health problems, says RIVM spokesman Harald Wychgel. "Especially in people who are already sensitive to respiratory complaints, it can get worse." This manifests itself mainly in allergic reactions and hay fever-like symptoms, such as sneezing and a runny nose. Asthma patients in particular can suffer a lot from mold in the home.
The RIVM calculated that 10 percent of all households are confronted with mould. Residents of older homes are most often affected. These are often "closed boxes", says Bolleboom, which nevertheless have drafts and cracks on all sides. It gets cold quickly, but the moisture cannot escape: an ideal breeding ground for mould. In relatively new homes, the insulation and ventilation are generally much better in order.
What can you do yourself to prevent mold?
Keep the ventilation grilles open as much as possible Turn on the extractor when cooking and showering Do not shower too long and not too hot Open windows regularly (against each other) Do not let it get too cold in the house Clean thoroughly, especially in humid areas Hang the wash outside or use the dryer
A large family produces more moisture than a single person: there is more showering, cooking and washing. In a larger house, the moisture can escape better than in a small house. So pay attention to the moisture production, advises Bolleboom. But he also acknowledges that there is a limit to this: "If you live with six people on sixty square meters, you cannot just change that. And not everyone has the luxury of hanging the washing outside or putting it in the dryer. "
---
Try to keep the humidity down, heat, ventilate and keep clean. If you don't do that, the fungus will definitely come back.
Marcel Bolleboom, spokesman cleaning company
---
If mold does develop, there are all kinds of means to clean it. It is important never to brush the mold away dry, otherwise the harmful particles will spread through the air. It is a better idea to start with a special mold remover, and then with an anti-mold paint.
If you hand it over to a specialized company, they will advise you to continue to pay attention afterwards. Bolleboom: "Try to keep the humidity low, heat, ventilate and keep clean. If you don't do that, it will definitely come back."
---
---