---
03 Feb 2023 at 10:49
In the past year, approximately 124,000 people in the Netherlands have been diagnosed with cancer. That is about 1,000 more than a year earlier. The number of skin cancer diagnoses continues to rise, while the number of colon cancer diagnoses is decreasing again after a temporary increase due to corona.
This is evident from figures from the Comprehensive Cancer Center of the Netherlands (IKNL) on Friday, which keeps track of all cancer diagnoses in our country.
The slight increase in the number of cancer registrations is mainly due to the growth of the population and the aging population. The latter is especially visible in skin and prostate cancer.
Skin cancer has been the most common disease for several years. According to the IKNL, this is because we now sunbathe much more than twenty to thirty years ago. People have more free time to do this and spend more holidays in the sun.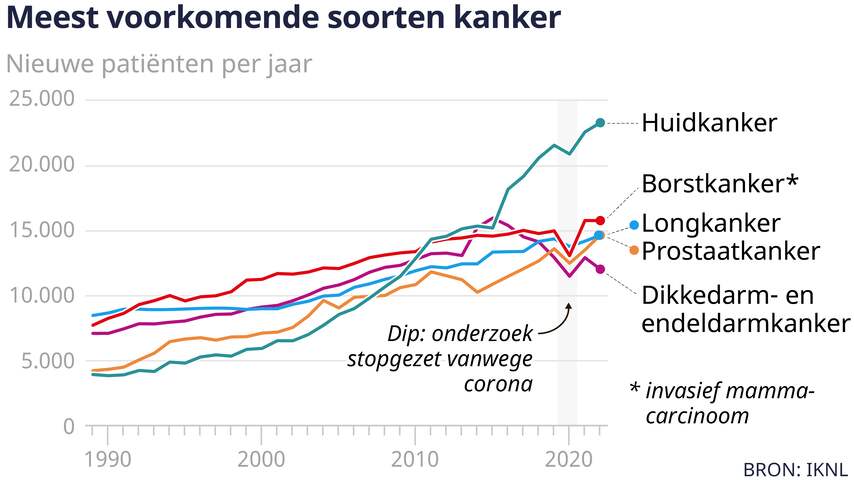 Photo: Bart-Jan Dekker
The decrease in the number of bowel cancer diagnoses continues
The number of colorectal cancer diagnoses decreased again. This decrease started after the introduction of the population screening for bowel cancer in 2014. In 2021 there were temporarily more bowel cancer diagnoses. This was because a backlog was made up that had accumulated because the population screenings were temporarily halted in 2020 due to the corona outbreak.
Prostate cancer is most common in men, with a share of almost 25 percent. In women, this was breast cancer (27 percent). However, the number of diagnoses remains relatively stable. There is also an increase in the number of lung cancer diagnoses, especially among women.
According to IKNL, more than 65,000 men and more than 58,500 women will develop cancer in 2022.
---
---