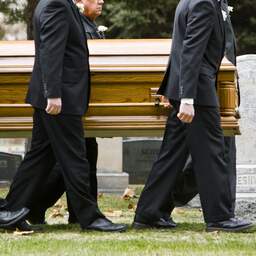 ---
03 Feb 2023 at 00:39Update: 4 minutes ago
There was no excess mortality in the Netherlands in the last two weeks of January, Statistics Netherlands reports on Friday based on provisional figures. It is the first time in almost a year that no excess mortality has been recorded for several weeks in a row.
Excess mortality means that a lot more people died than expected for that period based on figures from the past.
Nearly 15,000 people died in January and there was a sharp drop in the mortality rate, Statistics Netherlands reports. The drop was so strong that there was no excess mortality in the last two weeks. In December, however, there was still a peak in the number of deaths.
According to researcher Ruben van Gaalen of the statistics bureau, the decline of the past few weeks is in line with expectations: a peak always follows a decline. According to him, the peak in December coincides with the greater number of corona cases around that time.
The number of corona infections decreased in January. That may be one of the explanations for the decline in the mortality rate. From mid-December there was also a flu wave. The number of flu cases has been falling again for several weeks.
No explanation yet for recent excess mortality
Statistics Netherlands does not yet have figures on exact causes of death. They always follow with some delay. So far, all deceased persons up to and including September 2022 are known as to what they died from.
How it is possible that there was no excess mortality in the last two weeks of January is not entirely clear. According to Van Gaalen, it is also impossible to say whether the relatively low mortality rate will continue.
CBS said earlier in conversation with NU.nl that there is no indication whatsoever that corona vaccinations had anything to do with the large excess mortality in 2022. That is an assertion that is often made by opponents of the vaccines, but there is no evidence for this .
---
---