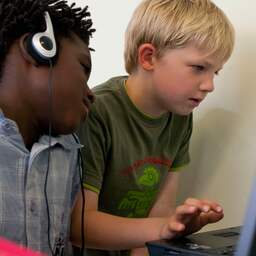 Gaming, watching movies or TikTok: children can be glued to their screen. How do you handle screen time for kids? You asked that question today on our response platform NUjij. That's how you do that.
Child psychologist Danielle Goedhart previously told NU.nl that the iPad and screens are part of this time. According to her, you have to teach children how to deal with this properly. It is important that parents keep control. For example, you can set age-restricted profiles on Netflix and determine which games your child plays on a game console.
Platforms like TikTok and YouTube are a different story. Goedhart: "They adapt content to the viewing behavior of the child. As a parent, you have almost no control over what they will see."
However, banning this is not a good idea, says Ingmar Franken, professor of clinical psychology at Erasmus University Rotterdam. "Nothing is more interesting and attractive than when it is forbidden." If you as a parent prohibit or impose restrictions, children will look elsewhere. As a result, no supervision and influence.
No golden rule for amount of screen time
You also wondered how much screen time you should give children. According to Goedhart there is no golden rule for this, but it depends on the child and the age. For example, according to the child psychologist, screen time provides clarity if children do not want to look at anything other than a screen. But it's less important for kids who start doing something else on their own after a while, she says.
Parents should especially look at the balance, says Koen Schobbers, author of the book My gaming child. He therefore recommends the 'Game Disc of Five'. There must be a balance between social contacts, sleep, study, sport and play. "If that's in balance, there's no discussion about screen time," says Schobbers.
How do you cut down on screen time when you need it? Orthopedagogues Caroline van Breda and Gertruud Schalen previously gave a number of tips to NU.nl. Below we list them.
Tips for reducing screen time

Keep screens out of sight
Put phones and tablets away so kids don't see them all the time.
Create new rituals
Find out when you mainly use screen time and come up with a new ritual.
Make a list of alternatives
Plan alternative activities with your child. For example, take them to a skating rink. Help them by writing down different options.
Don't interrupt playing
Scaling: "The less you interrupt play, the longer a child can entertain themselves."
Don't give a baby too many toys
The fewer toys, the better children can play.
Set a good example yourself
Find out how you as a parent deal with screen time yourself.
Don't be too hard on yourself
Scales: "I think it helps parents a lot more to feel that freedom than to take a cramped attitude when it comes to screen time."
Did you find this article via Net Binnen? You can find pieces like this every day via the NUjij button at the bottom of your app!
---
---