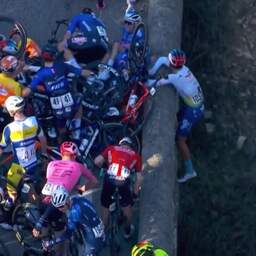 ---
Feb 03, 2023 at 1:50 PMUpdate: a minute ago
The images of the massive crash in the cycling race Ster van Bessèges went all over the world on Thursday. In particular, the plight of the French rider Valentin Ferron – hanging from a bridge railing – appealed to the imagination. "I panicked a little bit."
The second stage of the French cycling race Ster van Bessèges was shocked by a huge crash at more than 20 kilometers from the finish on Thursday. Several riders had to be taken away by ambulance and the race was permanently halted.
Yet another rider drew attention to himself. "I still don't know what happened," Ferron told Cyclingnews. "There was a big crash as we went onto a bridge, which held me up. Then riders hit me from behind and I tumbled over the edge."
The 24-year-old Team TotalEnergies rider clung to the bridge railing in a reflex. "I panicked a little bit," says Ferron. "It was also a worrying situation. It was not very deep there, but I could have badly hurt my ankles or knees in a fall."
It was 'competitor' Axel Laurence of Alpecin-Deceuninck who offered his compatriot a helping hand, allowing Ferron to scramble to safety. That was a nice image, although it was a logical act for Laurence.
"He was in a difficult package," says Mathieu van der Poel's teammate. "At such times, the cycling rules with different teams no longer apply, of course. We are all in the same boat."
Unfortunately, this content cannot be displayed. We do not have permission for the necessary cookies. Accept the cookies to view this content.
Change cookie settings
'Witty to see myself reflected in the media'
Ferron can of course only endorse those words. In the end, the physical damage was not too bad and he was able to continue on his way. "I think I was aware of the fact that it wasn't deep," says Ferron. "But it is difficult to analyze things at such a moment and to remain calm."
"It is funny to see myself in all the media. Fortunately, I got off well. There were riders who were in a lot worse shape after that fall."
One of those riders was the only Dutch participant Lars van den Berg. He suffered a tear in the elbow in the fall and did not start in the third stage on Friday. Ferron is 'just' back in the game.
---
---