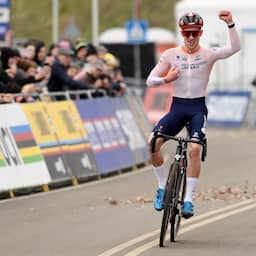 ---
03 Feb 2023 at 13:39
The Dutch cyclo-cross riders won the world title in the team relay at the Cyclo-cross World Championships in Hoogerheide on Friday. Fem van Empel helped her team to the first official world title on this part in the penultimate round.
Van Empel, Ryan Kamp, Tibor del Grosso, Leonie Bentveld, Lauren Molengraaf and Guus van den Eijnden each drove one lap on the course in Hoogerheide. As expected, the Dutch team quickly took the lead, with an excellent first round performance from Del Grosso.
After the first lap, Van den Eijnden took over from the first driver, who further extended the lead to ten seconds. The differences with the opponents were small in the beginning until Van Empel took over in the fourth round.
Van Empel, who also used the team part to reconnoiter the course, extended the lead to seventeen seconds halfway through the fourth lap. At the finish line she still had thirty seconds ahead. Kamp secured the gold for the Netherlands with a strong final round.
The British team drove to a silver medal and conceded 31 seconds to the winners. Belgium, including strong holder Laurens Sweeck, had to settle for third place with 33 seconds behind.
On Saturday, Van Empel will compete individually with, among others, Puck Pieterse, her main competitor in the battle for the world title. On Sunday, Mathieu van der Poel and Wout van Aert will compete for the rainbow jersey for the men.
---
---