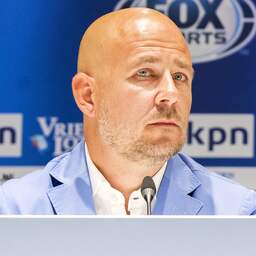 By Robbert van der Linde
---
Feb 03, 2023 at 8:49 PMUpdate: 2 hours ago
Since Thursday afternoon, 1,100 new stem cell donors have already registered with the Matchis Foundation, the stem cell donor bank in the Netherlands. According to the foundation, the new registrations are the direct result of a call from PSV's terminally ill press secretary, Thijs Slegers.
Slegers announced on Thursday that he can no longer be treated for his rejection disease. He called on people to register as a blood and stem cell donor. "I can't be helped anymore, but others can!" he wrote.
Since then, the Matchis Foundation has seen an explosive increase in the number of new donors. On Friday evening, the counter stood at 1,100 new registrations. "We can link it directly to Thijs' call," spokesperson Bert Elbertse told NU.nl.
After Slegers' call, many men in particular applied, says Elbertse. "Three quarters of the new registrations were men. That is good news, because in our database 70 percent are women. Men have more stem cells, and can therefore donate more stem cells if they are asked to do so."
A stem cell is a cell that has not yet specialized. The cell is capable of developing into different cell types, such as skin cells or blood cells. They can therefore be used for people who do not or hardly produce such cells themselves (anymore), for example due to illnesses.
Matchis expects that the number of new registrations will "continue to trickle down for a while". Several football associations have contacted the stem cell donor bank to discuss cooperation and increasing publicity.
Unfortunately, this content cannot be displayed. We do not have permission for the necessary cookies. Accept the cookies to view this content.
Change cookie settings
---
---