---
02 Feb 2023 at 08:49
The Dutch skaters will be in Heerenveen next weekend for the NK distances. In Thialf, not only the national titles, but also starting tickets for the World Cup in March are at stake. An overview of the program and an explanation of the distribution of the World Cup tickets.
Plan
Friday 3 February (6.15pm-10pm)
5,000 meters men First 500 meters men 1,500 meters women Second 500 meters men
Saturday, February 4 (2 p.m. – 5:10 p.m.)
First 500 meters women 3,000 meters women Second 500 meters women 1,500 meters men
Sunday 5 February (12.45pm-6pm)
10,000 meters men 5,000 meters women 1,000 meters men 1,000 meters women Mass start men Mass start women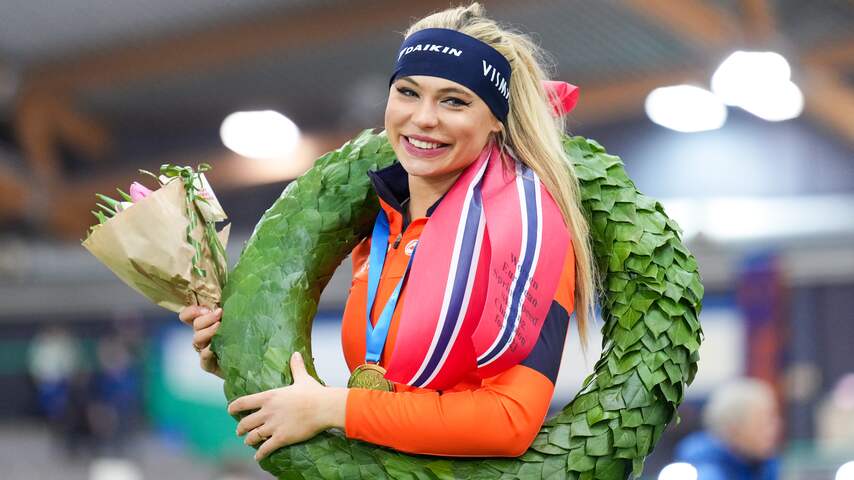 Jutta Leerdam proved her top form last month with the European sprint title. She defends her title in the 500 and 1,000 meters at the Dutch National Championships. Photo: Getty Images
World Championship distance qualification
During the NK, tickets are distributed for the World Cup, which will also be held in Thialf. The top three at the Dutch Championships may take action at the World Cup in a month, except for the 5,000 meters for women and the 10,000 meters for men. At those distances, only the best two qualify.
The skaters on the 500 meters ride two rides at the NK. The stage times are added together and the national title goes to the winner of the classification. Qualification for the World Cup is not based on this ranking, the fastest ride is decisive.
Skating Association KNSB has the option to designate one rider at each distance for the global final tournament. This only happens in exceptional cases, for example if a potential world champion falls ill and cannot participate in the NK.
There are no World Cup places at stake in the mass start. National coach Rintje Ritsma determines the selections for the team events mass start, team pursuit and team sprint.
Reigning Dutch champions
Men
500 meters: Kai Verbij
1,000 meters: Kai Verbij
1,500 meters: Thomas Krol
5,000 meters: Jorrit Bergsma
10,000 meters: Jorrit Bergsma
Mass start: Bart Hoolwerf
Women
500 meters: Jutta Leerdam
1,000 meters: Jutta Leerdam
1,500 meters: Antoinette de Jong
5,000 meters: Irene Schouten
10,000 meters: Irene Schouten
Mass start: Irene Schouten
View the skating calendar of 2022/2023 here
---
---