---
Feb 02, 2023 at 05:06Update: 8 minutes ago
Coaches Erwin and Martin ten Hove call it a first in Dutch skating. Since this season, all riders of their team Team IKO talk to a sports psychologist once every two weeks, who is also a permanent part of the technical staff. "We try to take a much more preventive approach to mental guidance."
When they started coaching skaters in 2003, Erwin and Martin ten Hove were like all young coaches. "I thought my training program was genius," says Martin in conversation with NU.nl. "So the athletes just had to follow that."
Twenty years, a handful of skating teams and many highs and lows later, the brothers no longer believe in this authoritarian way of coaching. "In the past you had one head coach and if he told you to go left, everyone hobbled to the left," says Erwin. "The danger of this is that there is no discussion possible. And that as an athlete you are out of luck if that one way does not suit you."
The Ten Hoves had been thinking for a while that they wanted to drastically change the course of Team IKO, which was founded in 2017. They implemented the changes last spring, after an Olympic season in which eye-catchers Esmee Visser, Jorien ter Mors and Jan Blokhuijsen performed disappointingly and did not make it to Beijing.
There are two major innovations. The first is that each skater very clearly gets his own individual approach. "The athlete must fully support the choices we make. We have noticed in recent years how crucial that support is," says Martin. "If we say we have to go right and the athlete has doubts, then you will soon have problems afterwards. That is why we now really make all decisions together."
The second big change is that the coaching staff has expanded and the staff members have much more influence than in the past. "Martin and I are still ultimately responsible, but we really steer this ship together with all the experts who are at the table," says Erwin. "That requires a lot of talking. And vulnerability and honesty, especially from Martin and me. As a coach you always want to radiate that you know how everything should be done. We must dare to put that ego aside."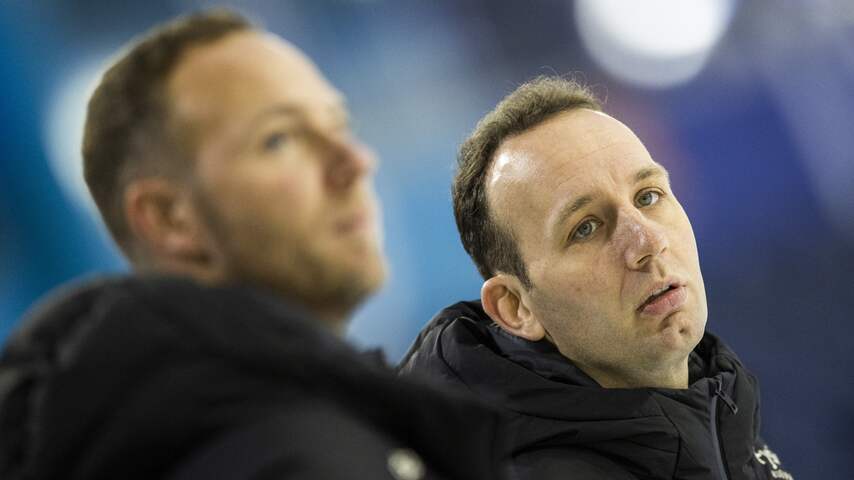 Martin ten Hove (right) next to his brother Erwin ten Hove. Photo: ANP
Team IKO wants preventive mental guidance
One of the most striking acquisitions of Team IKO is next to the ice in Thialf every Thursday. Yara van Gendt has been the permanent sports psychologist of the red-black team since this season. "She really is part of the staff," says Martin. "Yara is regularly at training sessions and goes along to training camps. But the most important thing is that she talks to all skaters individually once every two weeks. Even if nothing is wrong."
The idea of ​​the bi-weekly talks is to discover mental problems before they become a big problem. "Athletes usually only go to a sports psychologist if they have already hit their head a few times," says Erwin. "We are now trying to take a much more preventive approach to mental guidance. Compare it with our physiotherapist, who treats athletes to prevent injuries."
According to the Ten Hove brothers, mental guidance is an area par excellence in which they need the help of a professional. That belief was reinforced last season when Ter Mors (her sister Marjolein died a few months before the winter at the age of 33) and Visser (the Olympic champion often had the feeling that she failed) faced problems that could not be solved. were released by skating coaches.
"We are not trained to help an athlete with grief, for example. That is really work for experts," says Erwin. "Then you have to be so big as a coach to say: I'm not going to burn my fingers on this, we need help."
NK distances in Thialf
From Friday to Sunday, one of the most important tournaments of the winter is scheduled for Dutch skaters. At the NK distances in Thialf the riders have to qualify for the World Cup distances (2-5 March in Heerenveen). That is the only world championship of this season and therefore the main goal for all skaters.
'Not every coach wants to be coached by a psychologist'
If necessary, Van Gendt links an athlete to one of the three hundred psychologists from Psyned, the healthcare institution that has been a sponsor of Team IKO since last season.
In addition, Van Gendt is also a sounding board for the Ten Hoves. "She coaches us. For example, by saying that we should approach an athlete differently," says Erwin. "I don't think every coach in skating is open to that. But we think this will make the difference."
Do you want to be an example for other sports teams?
Martin: "When I listen to the discussion that is currently going on about transgressive behavior in sport, I think: come on, see how we approach it. Because you can do something better than just putting a confidential adviser on a website If there is really something going on in that area, athletes will not just tell a complete stranger."
"With Yara, we now have someone on the staff who is very approachable. And athletes are also used to discussing confidential things with her, it is a very safe place for that. That could be an example for other teams. But that is not the goal of this new approach. We are mainly concerned with getting our athletes to skate as hard as possible."
Performing well remains the most important thing?
Erwin: "We continuously have that conversation with Yara: in the end it is about winning."
Martin: "If everyone is comfortable in their own skin and there is no performance, then we have not achieved our goal. In top sport you will always keep looking for the edges."
But not in a way that makes an athlete unhappy.
Martin: "Exactly. That's exactly what we're doing."
Leader Beune feels good at Team IKO
"Erwin and Martin feel like my uncles," said Joy Beune at the end of December after her third place at the NK all-round in front of the camera of the NOS. The 23-year-old skater became junior all-round champion in 2018, but then never really broke through in four years with top team Jumbo-Visma.
In her first season as team leader of Team IKO, Beune seems to be joining the (national) top. In the NK distances (Friday to Sunday in Thialf) she has a real chance of qualifying for the World Championship distances.
"We really try to create a family feeling," says Martin ten Hove. "Then it is a great compliment to hear from Joy that she feels so comfortable with us. It is nice to see that Joy has made progress in all areas due to our broad approach. Physically she is better, but you notice also that she can be herself. That's why she has confidence and the ball started rolling on the ice."
---
---