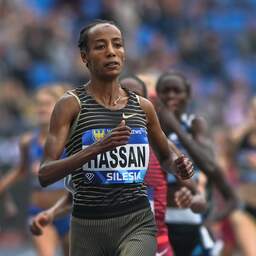 ---
Feb 02, 2023 at 07:00Update: 2 minutes ago
Sifan Hassan will make her long-awaited marathon debut on April 23 in London. The Dutch top athlete has accepted an invitation from the organization of one of the largest running events in the world.
Hassan, two-time Olympic champion, sees the race over 42.195 kilometers in the English capital mainly as a test. If she likes it, it is an option for her to run the marathon at the Olympic Games in Paris.
"I am still considering what I will do at the Games in Paris. Both the track and the marathon are possible," says 30-year-old Hassan in the run-up to the race in London.
"Before I can make a final decision, I first have to test myself in the marathon. I need to know if I'm good at it. The best place then is London, a competition with the strongest female marathon runners in the world."
Hassan has already celebrated great successes on the track, highlighted by the world titles in the 1,500 and 10,000 meters in 2019 and the Olympic titles in the 5,000 and 10,000 meters at the Tokyo Games in 2021. She has already won seventeen medals at international championships.
Immediately after her second gold medal in Tokyo, Hassan announced that the marathon would be her next goal. "I like things that hurt. I want to see what I can do and how much pain I can handle," she said at the time.
Strong field of participants in London
Sifan Hassan faces stiff opposition in London. World record holder Brigid Kosgei, reigning Olympic marathon champion Peres Jepchirchir and defending champion Yalemzerf Yehualaw, among others, are participating. A total of ten women will start with a best time of under 2 hours and 19 minutes, five of whom are under 2:18.
Hassan is not making a permanent switch
Hassan emphasizes that she is not making a permanent switch to the road. "It's always been my intention to run a marathon one day, but that doesn't mean I'm retiring from the track."
"I'm planning a track season for this summer, but right now I'm extremely excited about my marathon debut. It's a step into the unknown for me in many ways, but I'm really looking forward to it."
Hassan has so far proven that she can run at almost all distances. She holds, among other things, the world record for the English mile and the European records for the 1,500, 3,000, 5,000, 10,000 meters and the half marathon. She also holds the world hour record.
Hassan experienced last season that she should not rely solely on her talent. She took a long vacation after the Tokyo Games to catch her breath, but started training too late to get in shape for the summer season. She had a disappointing World Cup in Eugene, USA, where she did not win any medals.
---
---