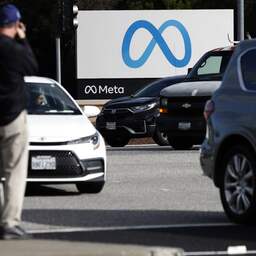 ---
02 Feb 2023 at 09:30
A quarter of the world's population uses Facebook every day, parent company Meta announced on Thursday. Never before have so many people been on the social network. The social media company's quarterly results were better than expected due to increased advertising revenue.
The number of people who use Facebook daily increased by 4 percent year-on-year in the last three months of last year, to two billion. Including Instagram and WhatsApp, there are even almost three billion daily users.
Meta sold more ads in the last quarter. Earlier in 2022, the company was still affected by the economic uncertainty caused by high inflation and the war in Ukraine.
In the final quarter of 2022, turnover amounted to 32.2 billion dollars (29.3 billion euros). That was more than expected. Compared to the last quarter of 2021, turnover has decreased.
Meta's revenue for the whole of 2022 was $ 116.6 billion. That is a decrease of 1 percent compared to 2021. The social media company had more costs. As a result, profits fell to $23.2 billion, 41 percent lower than in 2021.
Meta cuts costs and investments
Meta already announced in November that it would cut eleven thousand jobs to save costs. As a result, about one in eight employees lose their job. The company will also invest less in the virtual world (the metaverse).
The social media company expects to invest between $89 and $95 billion this year. That's about $5 billion less than previously predicted.
---
---