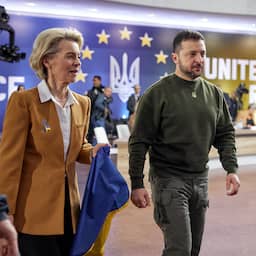 ---
Feb 02, 2023 at 4:53 PMUpdate: an hour ago
The European Union is establishing an international center to investigate and prosecute war crimes in Ukraine. The center will be located in The Hague.
The research center will coordinate the collection of evidence. It will be part of an investigation team that will be supported by the EU agency Eurojust.
The EU has long been looking at ways to help Ukraine bring to justice misdeeds committed in the country since the Russian invasion. EU countries such as the Netherlands, for example, sent forensic experts. Brussels is also seeking support for a special aggression tribunal to prosecute those responsible for the invasion.
Investigators from both Human Rights Watch and Amnesty International have previously found that Russian military personnel have systematically committed war crimes in Ukraine. Both organizations have discussed this with citizens and witnesses. The two human rights organizations accuse Russia of attacks on civilians, torture and murders.
The arrival of a special Russia tribunal (similar to the Yugoslavia tribunal) is unlikely because of Russia's right of veto in the United Nations. Ukrainian President Volodymyr Zelensky has been calling for a special war crimes tribunal against Russia for months.
The municipality of The Hague has responded positively to the arrival of the centre. "We are honored to welcome them as an international city of peace and justice", says alderman Mariëlle Vavier (International). The international courts fall under its duties.
Von der Leyen discusses accession to the EU in Ukraine
President of the European Commission Ursula von der Leyen has settled in Kyiv with a heavy delegation of European Commissioners for consultations on, among other things, Ukraine's intended accession to the EU. "We are here together to show the EU's steadfast support for Ukraine and to further deepen our support and cooperation," she said.
The EU must impose new sanctions on Russia before the invasion a year ago. "We will continue to increase the pressure on Russia," von der Leyen stressed in Kyiv. It would be the tenth sanctions package since the Russian invasion of Ukraine on February 24, 2022.
The punitive measures have not yet changed the Kremlin's mind. Moscow invariably claims to endure them well. But Russia does pay "a high price," says von der Leyen. In the long run, the sanctions would erode the Russian economy.
---
---