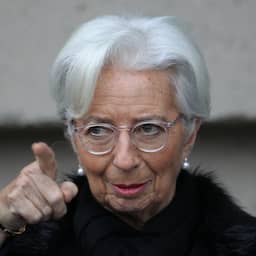 ---
Feb 02, 2023 at 3:04 PMUpdate: 11 minutes ago
The European Central Bank (ECB) is raising its interest rate for the fifth time in a short time. This is an increase of 0.5 percentage point. The central bank has also announced that interest rates will rise again by 0.5 percentage point in March.
The interest is now at 2.5 percent. The ECB raises this interest rate to curb inflation, which has risen sharply since the outbreak of war in Ukraine. The central bank also raised interest rates by 0.5 percentage point in December. Two months earlier, this was 0.75 percentage point.
Due to this increase, regular banks such as ABN AMRO and ING receive more interest if they store money at the ECB. The central bank hopes that the banks will then also raise interest rates for their customers.
That makes borrowing less attractive. The ECB hopes that people will buy less as a result, which should ensure that prices do not rise so fast.
The ECB is not the only central bank to raise interest rates. The Bank of England also raised its key interest rate again on Thursday by 0.5 percentage point. In addition, the US central bank announced on Wednesday that interest rates will rise by 0.25 percentage point.
---
---