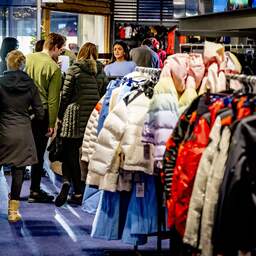 Consumers are finding their way to clothing and shoe stores again now that all corona measures have been lifted. The entrepreneurs in the shopping street saw their turnover increase last year. Trade organization INretail speaks of catching up. "The higher spending is also related to a slight increase in the average selling price," says a spokesperson.
Retailers also invested less in campaigns and promotions. The average turnover of clothing stores increased by 14 percent last year and that of shoe stores by 12 percent compared to the previous year.
The number of transactions in the stores increased by 13 percent and the number of items sold by 9 percent. Customers spent more on average per transaction in stores than in 2021.
Men spent the most on clothes and shoes. Spending on men's clothing was 19 percent higher and men's shoes 12 percent. According to the trade association, men spent more money on shoes last year because they paid more attention to it after working from home for a long time.
Clothing for women was sold 12 percent more and sales of women's shoes increased by 6 percent.
Online turnover fell by 16 percent at clothing webshops and 12 percent at shoe stores. This may have to do with the lifting of the corona measures. Clothing and shoe stores were allowed to fully reopen in January last year after the latest lockdown.
---
---