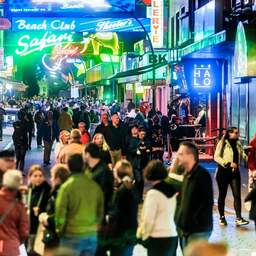 Gateways for window prostitution, erotic centers outside the city center and a registration obligation: many measures regarding sex work that are on the table in Amsterdam are already a reality in Hamburg. What can be learned from that?
This article comes from Het Parool. Every day a selection of the best articles from the newspapers and magazines appears on NU.nl. You can read more about that here.
Herbertstraße in Hamburg has built up quite a reputation. It is the only street in the city with window prostitution, and to prevent it from becoming a tourist attraction, there is a controversial rule: no women are allowed. That message is clearly marked on metal barriers at the ends of the alley. Stories circulate on internet forums of women who go through anyway, only to be chased off the street by furious sex workers.
Whether those stories are correct, Undine de Rivière, herself a sex worker in Hamburg, is not sure. "I don't work behind the windows, but when I visit colleagues there, we meet at the entrance so that I don't get sent away. So the rule is taken seriously. Apparently sex workers feel safer, although it doesn't do anything about the hordes of drunks male tourists who just want to watch."
There are also female customers, De Rivière knows from experience, but they certainly form a very small percentage in window prostitution.
Most popular red light district
As strange as the rule is, it shows that sex workers have no need for tourists who cannot make money. Is this also something for Amsterdam, where the city council has been looking for ways to curb mass tourism in the Red Light District for years – if necessary, by closing the curtains against the will of sex workers?
"Of course not," says Stephanie Klee, sex worker and co-founder of Germany's first sex worker and brothel interest group. "In Hamburg it is about one alley, it is difficult to place fences around the entire Red Light District." Incidentally, such gateways are being seriously considered in Amsterdam.
Sex work tourism in Germany is less extreme, says Klee. Take the Reeperbahn, the main street of Hamburg's most popular red-light district: there are brothels, sex clubs, and one streetwalking zone where street prostitution is still allowed in the evenings and at night. "But there are also 'normal' bars, restaurants and tours. It's a good mix."
And then there are two red light districts, says De Rivière, who works in the vicinity of the Hauptbahnhof. "This area used to be one large streetwalking zone, but that has been increasingly restricted in recent years." The third area is more on the outskirts of the city.
whorehouse
Those who do not want to have anything to do with tourists can simply work in a different neighbourhood, says De Rivière. "Sex workers around the Reeperbahn choose the tourists themselves; they like that party atmosphere, or like it that the customers just walk by. I myself recruit customers through my website, and after thirty years I have many regular customers. It's just something you want; the most important thing as a sex worker is to have different options."
One of those options in Hamburg is a so-called Laufhaus: a kind of hotel where sex workers rent individual rooms and receive clients. This is in fact an erotic center like the one Mayor Halsema has been trying to get off the ground for years on the outskirts of Amsterdam, in exchange for closing the windows in the Red Light District.
Some sex workers are very happy in a Laufhaus, says De Rivière. "But it is a certain way of working: you have to plan ahead, there is no spontaneous walk-in. And it is important that you are not in a completely deserted area. It is best to set up something like this in Amsterdam, but not instead of window prostitution – multiple options are so important."
Disastrous consequences
In Germany, sex work is legalized at the federal level, but local governments are allowed to set additional rules. For example, a new federal law has been in effect since 2017, including a registration obligation for sex workers, mandatory annual 'consultations' about health risks, and a permit requirement for brothels. Some regions also charge a sum of money for registration, others set extra conditions, or have few offices where you can get a permit.
Hamburg is relatively mild, says De Rivière. "In cities such as Bremen and Munich, the law has been used to make sex work almost impossible."
According to Marjan Wijers, who is doing PhD research into sex work in Germany, the consequences of the new law are 'quite disastrous'. "Sex workers who cannot or do not want to register have been forced into illegality. This has created an industry of people who earn money to help them bypass bureaucracy and recruit clients. Sex workers have therefore become more dependent and they are less likely to go to the police because they themselves are punishable."
In addition, Wijers saw large brothels improve, at the expense of small-scale collectives. "They did not meet the permit requirements, for example that you are no longer allowed to sleep and work in one place."
Fine for unprotected sex
The argument is that compulsory registration protects sex workers and prevents trafficking in women. Wijers: "But recent research shows that trafficking in women was already decreasing in Germany. There is nothing to indicate that this law has had any influence on that. The discussion about sex work is driven enormously by ideology and emotion, and hardly by facts."
Klee has also always spoken strongly against the registration obligation, and the fact that sex workers have to surrender their privacy. "And moreover: such rules do not apply to any other profession. We want equal treatment."
The law also contains strange details. For example, customers risk a fine of 50,000 euros for unprotected sex. "Do the police then walk into a room during sex to check whether someone has a condom on? It is actually symbolic politics."
---
---