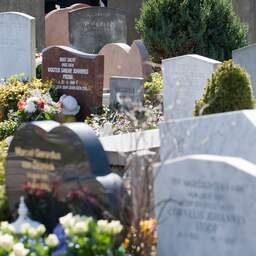 By our economics editors
---
Feb 01, 2023 at 1:28 PMUpdate: 9 minutes ago
In many cases, next of kin have to wait six months or more for the delivery of a headstone. According to the Zeeland supplier Dominicus, waiting times have increased considerably during the corona pandemic. This is partly due to production problems in India and China.
"The situation is improving, but we are not yet at the pre-corona level," says Simon van Lit of the Zeeland tombstone supplier Dominicus.
Someone who orders a stone now has to wait about 5.5 to 6 months before it can be placed on the grave. "That is still about half as long as it was two or three years ago," says Van Lit. At the height of the corona pandemic, the delivery time could be up to seven months.
The vast majority of headstones in Dutch cemeteries come from India or China. But during the pandemic, factories and ports were closed there. The factories also struggled with production problems, which meant that delivery times continued to increase.
According to Van Lit, that logistical problem has now been largely solved, but not completely. He points out that the company then assembles and engraves the stones here. "At the moment there is still congestion due to the amount of stones that come in here and cannot be processed quickly enough. We have to catch up," says the co-owner of the natural stone company.
The same size headstones are not allowed in every cemetery
Stockpiling headstones is difficult because cemeteries have different requirements for the size of stones. "If you had sizing, it would be a lot easier."
The waiting times are not long at all suppliers. "It is now about three months for us, which is again within normal margins," says Jaco Vuijk of Boot Grafmonumenten in Lisse.
According to him, the long delivery times at other companies are mainly due to personnel problems.
---
---