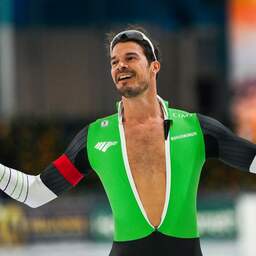 Hein Otterspeer extended his contract with Team Reggeborgh by one year on Wednesday. The contract of the reigning Dutch sprint champion includes an option for another year.
"It's nice that the team has faith in me. I find it very respectful that they express that confidence for two years," says Otterspeer.
The 34-year-old skater, who made the switch to Reggeborgh last year, does not intend to store his skates for the time being. "Physically there is still an upward trend. I'm not at my peak yet. The better I move, the faster I get."
Otterspeer is having an excellent season so far. At the end of last year he was crowned national sprint champion for the fourth time, took silver at the European Sprint Championships and is leading the World Cup classification in the 1,000 meters.
At Reggeborgh, Otterspeer also has a mentoring role. He shares his knowledge and experience with the younger skaters. "I actually rolled into that in a natural way. On the other hand, those guys keep me sharp again. That is very motivating."
Otterspeer will compete in the 500 and 1,000 meters of the NK distances in Thialf this weekend. At the beginning of March he hopes to close the season with a title during the World Championship distances.
---
---