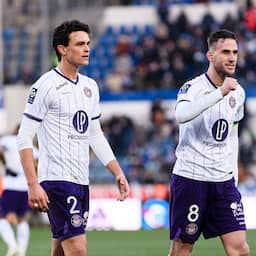 Thijs Dallinga and Branco van den Boomen helped Toulouse to a victory in Ligue 1 on Wednesday. The Dutch both scored in the 4-1 home game against Troyes. Olympique Marseille also won and is only two points behind leaders Paris Saint-Germain.
Dallinga made it 1-1 for Toulouse against Troyes after fifteen minutes of play on a pass from Van den Boomen. The visitors had taken the lead shortly before through Mama Baldé, who converted a penalty.
Van den Boomen also provided the assist for Farès Chaïbi's 2-1. Ten minutes after the break, the midfielder also scored himself from a penalty kick and Ado Onaiwu determined the final score in the final phase. Van den Boomen, Dallinga and Stijn Spierings all had a starting place at mid-engine Toulouse.
Olympique Marseille won 0-2 at FC Nantes thanks to an own goal from João Victor and a goal from Moroccan World Cup star Azzedine Ounahi. Thanks to the victory, the southern French formation climbs to second place in the ranking.
Marseille is two points behind Paris Saint-Germain, but the leader will visit Montpellier later in the evening (9 p.m.).
---
---