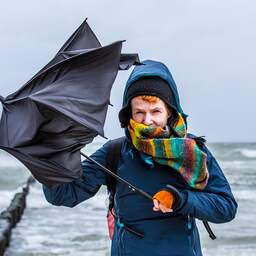 It will rain almost all day on Tuesday. These showers are accompanied by moderate to fairly strong winds. It will only become dry in parts of the country in the evening. It will be a maximum of 6 to 9 degrees.
This morning it is cloudy and the first drops may fall from the sky locally. The wind will blow from the southwest.
Showers will move across the country from the northwest during the course of the day. Later it will also clear up slightly from the northwest. The wind increases in strength during the day and can even be strong at sea with wind force 7. Then there are gusts of wind with a speed of up to 55 kilometers per hour.
Tuesday evening it will still be rainy, especially in the southeast. In the night from Tuesday to Wednesday, the last showers will also float out of the country to make way for a clear night. The mercury then drops in the east and southeast to around freezing.
On Wednesday morning, commuters have to take into account very bad weather for the time being. Showers will then drift into the country again in the north and northeast. There could be a thunderstorm or a hailstorm.
View the full weather forecast for your location here. You will also always find the weather report at the top of the front page.
---
---