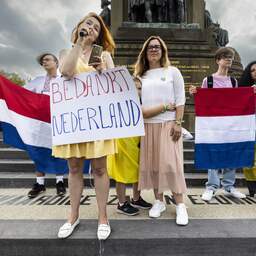 By our economics editors
---
01 Feb 2023 at 00:00
Almost half of the 65,000 Ukrainian refugees between the ages of 15 and 65 who stayed in the Netherlands on November 1 last year had paid work. On July 1, that was still 35 percent, Statistics Netherlands reports Wednesday.
Ukrainian refugees who came to the Netherlands after the Russian invasion at the end of February last year do not need a work permit to work here. This puts them in an exceptional position compared to other migrants from outside the European Union or the countries of the European Free Trade Association (EFTA).
About 65,000 of the Ukrainians in the Netherlands were between 15 and 65 years old. More than 30,000 of them were employed by a Dutch employer. That amounts to 46 percent.
Most Ukrainians worked in the business services sector (56 percent). Temporary employment agencies fall under this sector. It is often impossible to determine which industry they are being sent to. In addition, relatively many Ukrainian refugees also worked in trade, transport and catering.
Most Ukrainian refugees worked as on-call workers (26 percent), agency workers (43 percent) or had other temporary employment contracts (28 percent). Most of the refugees worked part-time: 58 percent worked less than 25 hours a week. About 13 percent worked full-time (35 hours or more).
---
---