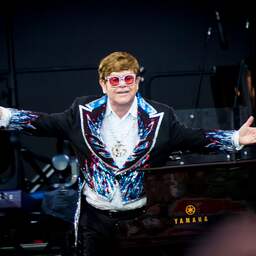 Elton John has set a new record with his farewell tour. The British musician still has a few concerts to go, but the Farewell Yellow Brick Road Tour has already raised $ 817.9 million (757 million euros), writes music magazine Billboard . Never before has a tour yielded so much according to the calculations of the American magazine.
The Rocket Man singer knocks Ed Sheeran off his throne as the artist with the best-selling tour. Sheeran set a record in 2019 with his The Divide Tour, which grossed more than $ 776 million. Before that, the Irish band U2 was the record holder.
Elton John has been on his last series of concerts since 2018, with the corona pandemic forcing him to reschedule a number of major performances. The plan is to give more than 300 concerts, of which the 75-year-old artist has now completed 278. The tour ends this summer in Europe.
The singer and pianist, who was born Reginald Kenneth Dwight, is a big earner in the pop industry anyway, according to Billboard. Since 1986, his concerts, sometimes alongside other stars such as Eric Clapton and Billy Joel, have grossed nearly $1.9 billion. This makes him the best-selling solo artist when it comes to ticketing earnings, ahead of Bruce Springsteen and Madonna.
---
---