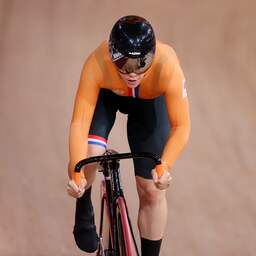 ---
Jan 31, 2023 at 5:37 PM Update: 7 hours ago
Track cyclists Shanne Braspennincx and Laurine van Riessen are missing from the Dutch selection for the European Track Cycling Championships in Grenchen, Switzerland. The two cyclists have taken a rest period after the intensive competition period of 2021 and 2022.
The 31-year-old Braspennincx was still part of the team that achieved European Championship silver in the team sprint in Munich last year. The 35-year-old Van Riessen won bronze in the sprint in the southern German city.
Team sprinters Jeffrey Hoogland, Harrie Lavreysen and Roy van den Berg are in the Dutch selection. They defend their European title. That was the only part on which Lavreysen and Hoogland came into action in Munich. Van den Berg is completely back as starter of the men's team sprint.
At the World Cup in Paris last year, the team sprinters, with a not entirely fit Van den Berg, had to leave the title to Australia for the first time in four years. "The situation was under control at the World Cup so that Roy could drive, but his physical condition has improved considerably in recent times," says national coach Mehdi Kordi.
Kordi, who was appointed as the successor to René Wolff at the end of December, is looking forward to his first tournament as national coach of the sprinters. "The athletes are ready for this tournament. We are on an upward trend, the peak of which should ultimately be at the World Cup in Glasgow (in August, ed.)."
The European Track Cycling Championships will be held in Grenchen from 8 to 12 February. It is the first tournament where points can be earned in the qualification process towards the Olympic Games in Paris in 2024.
---
---