---
Jan 30, 2023 at 9:31 PM
The 'life' of a car is quite predictable. A model is put on the market, gets an update after about three years and again three to four years later it is time for a new model. If it is up to a number of parties, we will do things completely differently in the near future.
Tesla was the first to come up with it a few years ago: over-the-air updates. This allows software updates to be sent to your vehicle remotely and you no longer have to wait years before you can improve something on your car. And if the car's software is always completely up-to-date, why wouldn't you be able or willing to do much longer with your car?
In any case, that is what Honda and Sony have in mind with their electric car brand Afeela. At the beginning of this year, the Japanese companies showed their first study model, which should be on the road in 2025 in final form. If it's up to Honda and Sony, people will drive their Afeela for at least ten years.
"It is tradition to replace a car every three or five years. But by constantly updating this model, we try to get customers to use their car for five to ten years," said Sony Honda Mobility CEO Yasuhide Mizuno earlier. this month.
For example, Afeela wants to offer a ten-year subscription to the car. During that period, users can always install new updates and even upgrade the car to autonomous driving. In exchange for a lower lease rate, drivers can also choose to omit certain things from the updates.
Keeping a car up to date requires a lot of the available hardware and software. That is why Honda and Sony provide the Afeela with above-average powerful chips from Qualcomm. That is also Tesla's approach. But Honda and Sony are the first to say out loud that this approach is intended to last as long as possible with the car.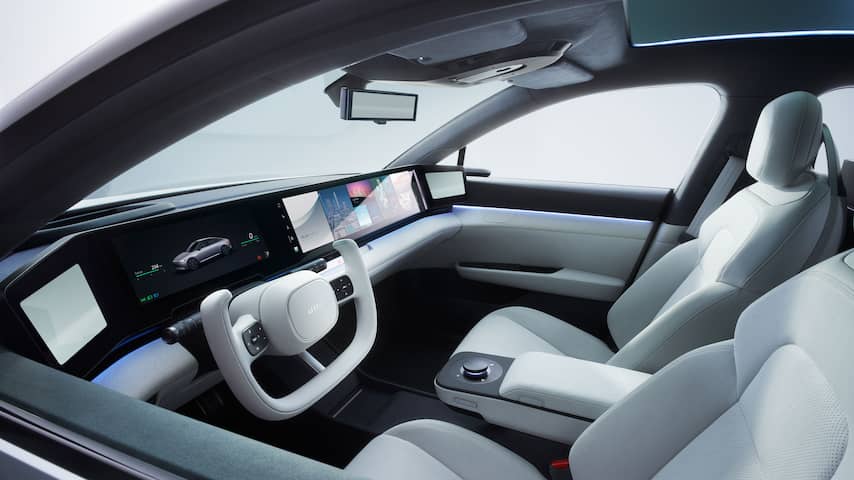 This workplace must remain current for ten years. Photo: Afeela
The revenue model of car manufacturers needs to be overhauled
It's a logical thought, says Rico Luman, senior economist transport, logistics & automotive at ING Research. "The expectation that electric cars will generally last longer fits in well with the idea of ​​continuous updates. Moreover, if a car is already fully electric, it is more sustainable and cheaper for motorists to use it for longer."
But the idea of ​​using the same car for ten years or longer does require a cultural change among consumers and lease drivers. "A car is not only about cost and practical use, but also about emotion," says Luman. "And development, innovation and renewal play a role in this. In that sense, we have become accustomed to following up on models and 'new jackets'. Moreover, there is also a commercial interest in this."
By giving a car a slightly modified appearance after three years, such a model can get back to work and sales get a boost. If the interim improvements will soon only be on the inside, i.e. via software updates, then as a manufacturer you will have to find other ways to keep your product in the spotlight.
According to Afeela, this can be done by offering technology for autonomous driving after a few years. Tesla CEO Elon Musk has the same strategy in mind, he said last December. He thinks Tesla can make money in the long term with interim upgrades to the car, including self-driving technology. On a smaller scale, manufacturers such as BMW, Mercedes and the Volkswagen Group have now also started offering extra functions for a fee afterwards.
'We contribute to the reduction of new fuel cars'
Another development that has started is that of refurbishing used cars. This means that they are completely taken care of, so that they are almost as good as new. Toyota and Peugeot want to get started with that.
At Renault, they have been refurbishing existing models for almost two years. In fact, a separate wing of the factory in Flins, northern France, has been set up for this, where some three thousand employees will be working in the coming years. There, used cars can be made ready for sale again within six days. Renault has also started a refurbishing project in Seville.
"By extending the life of a car, you postpone the purchase of a new one," said Cléa Martinet in conversation with AutoWeek last year. As Director of Sustainable Development, Martinet is responsible for the road to sustainability within the Renault Group.
"The target group of such programs mainly consists of people who do not have the means to buy a new electric car. By extending the life cycle of existing vehicles and equipping them with a cleaner engine as much as possible, we contribute to reducing new fuel cars on the road."
Inquiries at Renault Netherlands show that the brand is not planning to sell upgraded used models here as well.
Unfortunately, this content cannot be displayed. We do not have permission for the necessary cookies. Accept the cookies to view this content.
Change cookie settings
---
---