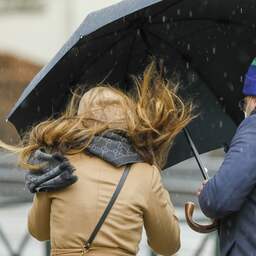 Monday starts wet. In the north and east of the country it can even hail or thunder for a short time this morning. Later in the day it clears up and the sun breaks through. It will be a maximum of about 8 degrees.
The whole country wakes up this morning with rain showers. In addition, it can blow hard, especially in the north. In Friesland, Groningen and the Wadden Islands, the KNMI expects wind gusts of up to about 80 kilometers per hour. That is why code yellow has been issued for those areas.
The weather code applies until 2 p.m. Meteorologists expect it to clear up across the country after that. It will be dry and the sun will show itself regularly. You can feel a (quite) strong wind in the north.
Cloudy and clear periods alternate tonight as well. The wind force decreases and only remains quite strong at sea. In the night from Monday to Tuesday it seems to remain dry for the time being.
View the full weather forecast for your location here. You will also always find the weather report at the top of the front page.
---
---