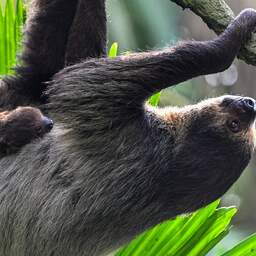 ---
Jan 30, 2023 at 1:05 PMUpdate: 4 minutes ago
Three sloths died in January from the cold at the airport of Liège in Belgium. This happened during a stopover on a plane en route from Peru to Indonesia.
Nine sloths arrived at the Belgian airport on Saturday morning, January 21. In Liège, the animals ended up in freezing temperatures (minima down to -4 degrees Celsius). The sloths are used to living in subtropical temperatures.
Due to the severe winter weather, the plane in which the sloths were on had to stay on the ground longer. The harsh conditions would also have been the reason it took a long time for people to unload the sloths. That only happened after more than 24 hours. Three of the nine sloths were dead by then.
"It is incredibly sad that these three sloths died of the cold in an airplane," says Sanne Kuijpers, Wild Animals campaign manager at World Animal Protection Netherlands. The reason why the animals were transported is unknown to the organization.
"We believe this accident needs to get to the bottom of it. It further emphasizes that we should not view wildlife as products or commodities."
The Walloon government wants it to be clear who is guilty of the deaths of the sloths and that there is a punishment. At this point, the airline and other companies involved are blaming each other.
Sloths have an average length of 50 cm and can weigh up to 5 kilos. They are mainly found in South and Central America. Sloths have an extra vertebra, which allows them to turn their head at least 180 degrees. They even have a view of almost 360 degrees.
Previously, three bears were reported to have died at Liège airport. A correction in World Animal Protection's reporting revealed that they were sloths.
---
---