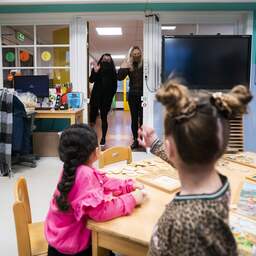 ---
Jan 30, 2023 at 9:04 PMUpdate: 4 hours ago
School-going children have been delayed by an average of a third of a grade during the corona pandemic. This is the conclusion of a worldwide study published Monday in Nature Human Behaviour. In many cases, the backlog has not yet been made up.
The backlogs have increased because many schools closed during the corona pandemic, teachers dropped out and children with fewer resources had more difficult access to online education.
It is estimated that 95 percent of students worldwide experienced school closures. But even when schools reopened, education was plagued by hybrid education and quarantines.
Children from families with a lower socioeconomic status were more behind in learning than peers who were better off. This is partly because education took place at home via video connections, while not every child had a laptop at home.
According to the study, lockdowns had a negative effect on children's freedom of movement and social activities. According to the authors, these factors and economic uncertainties probably have the greatest consequences in families with a lower socioeconomic status.
The researchers fear that inequality in education has grown due to the consequences of the pandemic.
Data from fifteen countries, poor countries underrepresented
The researchers combined data from various studies from fifteen countries. This concerned data from primary and secondary school students in the period from May 2020 to May 2022.
Most of the data came from the United States and the United Kingdom. Dutch studies were also analysed, as were data from other European countries, Australia, Brazil, Colombia, Mexico and South Africa.
The researchers do note that little data was available from poorer countries. "Future research should address this gap in data so that the study results can be presented as fully as possible."
---
---