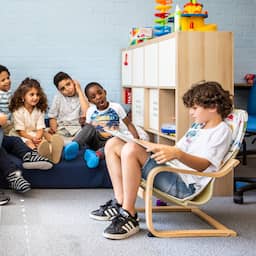 ---
Jan 30, 2023 at 05:04 Update: 4 minutes ago
The establishment of dozens of classes for children with a physical disability or developmental disability has led to enthusiastic reactions. Since 2015, the Handicapped Child Foundation has set up almost fifty classes and wants to double that number in the coming years. Children with disabilities can finally go to school due to the arrival of the separate classes.
According to figures from Stichting het Gehandicapte Kind, ten thousand children with disabilities never go to school. Sometimes they do have a medical day care or they go to a care farm. But they don't see a primary school inside. The foundation believes that this must come to an end. "We believe that every child can develop."
A Samen naar School class gets its own classroom at a primary school. In addition, a special teacher and care staff are needed. "Children receive medical care in their own room," says director Henk-Willem Laan of the foundation. This concerns, for example, tube feeding or ventilator support. "Some of the children also receive lessons there. During playtime or reading time, they join the other children at school."
There are also classes for students with a developmental disability, such as autism. For them it often works the other way around. "They can play well with other children during a structured lesson. But if there is free play, they prefer to withdraw into their classroom," says Laan.
Several new groups will start within two months. The Together to School classes are spread across the country. They are not there yet in the provinces of Limburg and Zeeland. "By doubling the number of classes, we want to be present in every province. After that, we aim for a Samen naar School class in every municipality," says Laan.
Never miss a positive story again? Get notified of news that makes you happy. Stay informed with notifications
'Regular education offers more opportunities'
The PO-Raad, the sector association for primary education, is enthusiastic about the special classes in mainstream schools. "We think it is very important that as many children as possible can learn and play together," says a spokesperson. "It is good for the development of children that this takes place within the walls of regular education."
Special education also offers space for children with various disabilities. "But students in special education often do not have the same opportunities as students in regular education," says the spokesperson for the PO Council. She emphasizes that the best place can differ per child.
Project leader Suzan Teutenberg of Together to School sees that special education cannot serve all groups of children. This applies, for example, to children with severe multiple disabilities. And for some parents, the choice of school is a matter of principle. "They prefer to see their child grow up in the middle of society," Teutenberg refers to regular education.
Special education has a lot of knowledge in house
Chairman Johan van Triest of the Sector Council for Specialized Education applauds the classes. "The group of children sitting at home is a major national problem," he says. "It's great that so much time, expertise, energy and resources are going into these initiatives."
He sees that the children can participate as usual as possible with friends and girlfriends, and also in their own neighborhood. "That matters and contributes to more inclusive education."
He does, however, question the educational quality of the special classes. "Special education must meet requirements that do not always apply to these classes. We have a lot of expertise in-house to teach children with all kinds of disabilities."
He thinks it would be good if the initiators of the Samen naar School classes used this knowledge more often. "As educational organizations and the government, we simply have to do better," says Van Triest.
According to project leader Teutenberg, there are experienced teachers and remedial educators for the Samen naar School classes. "Real education is offered, but the children are tested in a different way," she explains. "Some of these students were at home or in a medical daycare center. They only receive healthcare funding and are therefore not subject to compulsory education."
Parents shy away from compulsory education
Both Van Triest and director Laan argue for more customization to keep all children in school. "Setting up a Together to School class is super complex and can easily take two years," says Laan. "The money is there, but it is divided into different pots."
And education money is subject to many conditions, such as compulsory education. Van Triest sees that this makes parents recoil and prefer to keep their multiple disabled child at home. "But it should not be the case that these children drop out of education because of the systems."
Correction: An earlier version of this story incorrectly stated that it also concerns children with an intellectual disability. It should have said developmental disability instead. Autism is an example of this. The text has since been amended.
Image: Masja Stolk
---
Read more about:
EducationGood newsBinnenland
---
---
---
---