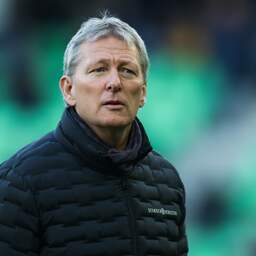 Frank Wormuth is going to start an arbitration case against FC Groningen. The 62-year-old coach was fired by the Eredivisionist more than two months ago, but has not been able to reach an agreement on financial compensation.
"There is a legal difference of opinion about a certain part of the contract and we want to have that tested," Wormuth's agent Roderik van Kerkhof told RTV Noord on Monday.
"That is still under court. It is also not an annoying thing between FC Groningen and Frank, but a legal difference of opinion. You have to test that and that can only be done with one body: the arbitration committee of the KNVB."
Wormuth was fired on November 14, the day after the 2-3 defeat against Fortuna Sittard. The 'Pride of the North' was then in fifteenth place in the Eredivisie, but the club is now last.
Assistant coach Dennis van der Ree took over Wormuth's tasks and is still in charge of the group. On Sunday, Groningen lost 3-2 to FC Volendam, which meant their fifth loss in five games.
---
---