---
Jan 29, 2023 at 6:11 PMUpdate: 7 minutes ago
John Heitinga looks back with satisfaction on his first (and possibly only) Eredivisie match as head coach of Ajax. The 39-year-old former defender saw his team win 1-4 at Excelsior on Sunday, although it took a while for the team from Amsterdam to make the difference, to his annoyance.
"We started well, but then I was immensely annoyed," Heitinga said at the press conference in the Van Donge & De Roo Stadium.
"And in particular our own game. We just shot the ball into the feet of an opponent a few times, resulting in enormous opportunities for Excelsior. And have you seen how many corners Excelsior got?"
Due to goals from Dusan Tadic (penalty) and Davy Klaassen, Ajax led 2-1 halfway against the ratio. After the break, the reigning national champion was stronger and the score increased further due to hits by Mohammed Kudus and Devyne Rensch.
"I saw a good Ajax in the second half", Heitinga continued. "We were dominant and at times it looked fresh."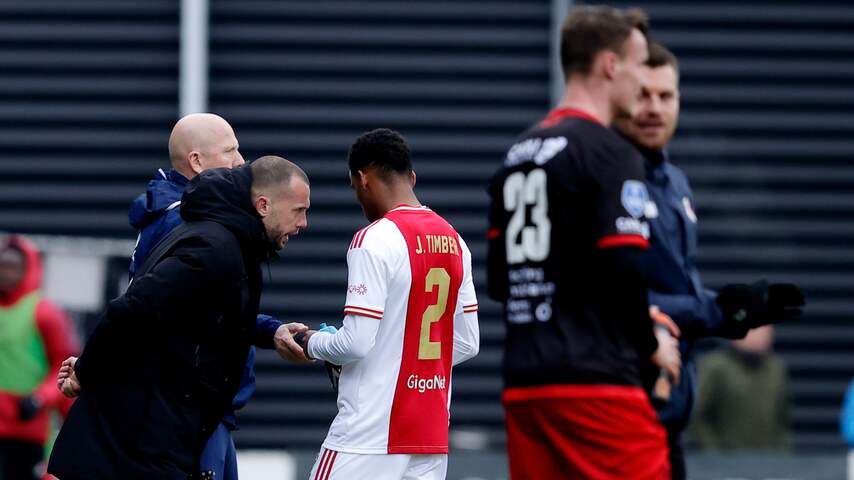 Consultation between John Heitinga and Jurriën Timber during the duel with Excelsior. Photo: Getty Images
'We had to respond'
With the victory in Rotterdam, Ajax ended a historically bad series of seven Eredivisie matches without a win. It resulted in the dismissal of trainer Alfred Schreuder and a selection without confidence, Heitinga noticed in recent days.
"All we needed was a result against Excelsior. Winning, that is the only way to regain confidence. These players can all play good football, but it was really about the points now. Ajax is not where it is is supposed to be there and so we had to respond. We succeeded."
Ajax's next match is in Leeuwarden against SC Cambuur in a week's time. The question is whether Heitinga will again be ultimately responsible on the bench.
Should Ajax appoint a new trainer, Heitinga, who was a trainer of Jong Ajax until Friday, will continue as an assistant to the main force. But it is also possible that the 87-time Oranje-international will finish the season as head coach.
Stand at the top of the Eredivisie
Feyenoord 19-42 (+27) AZ 19-40 (+16) PSV 19-38 (+24) Ajax 19-37 (+30) FC Twente 19-36 (+19)
Beeld: Getty Images
---
Read more about:
AjaxEredivisieJohn HeitingaFootball
---
---
---
---