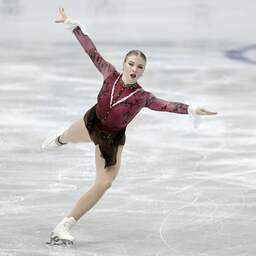 Figure skater Lindsay van Zundert was unable to maintain her tenth position at the European Championships in Espoo, Finland, in the free freestyle. The Brabant rider fell twice on Saturday and finished in fourteenth place.
Because of her falls, seventeen-year-old Van Zundert only received 99.97 points from the jury, which was the fifteenth score. Van Zundert came to a total score of 158.10 points.
The European title went to Anastasiia Gubanova from Georgia. After the highest score in the free freestyle with a total of 199.91 points, she was ahead of the Belgian Loena Hendrickx. The bronze was for Kimmy Repond from Switzerland.
Van Zundert had convincingly qualified for the free freestyle. With an almost flawless performance, the figure skater scored tenth in the short freestyle. She was among the best 24 figure skaters who were also allowed to take action on Saturday.
Van Zundert finished eighteenth last year at her debut at the Olympic Games in Beijing. At the European Championships in 2022 she did not make it to the free freestyle and was 27th. The World Figure Skating Championships will be held in Montpellier, France, in March.
---
---