---
Jan 29, 2023 at 1:57 PMUpdate: 12 minutes ago
Novak Djokovic showed his most vulnerable side on Sunday after winning his tenth Australian Open title. The Serb, who broke completely in his player box after his victory over Stéfanos Tsitsipás, felt a lot of pressure in Melbourne due to last year's events.
"This was one of the most challenging tournaments I've ever played in my career," said 35-year-old Djokovic in his victory speech at the Rod Laver Arena. "Especially after I was not allowed to participate last year. Given the circumstances, I think this is the best victory I have achieved in my career."
Djokovic hoped to win his tenth Australian Open title last year, but the Serb was not allowed to enter the country because he has not been vaccinated against the corona virus. After an unprecedented soap opera, in which Djokovic challenged his expulsion in court, he was nevertheless expelled from the country before the start of the tournament.
This year Djokovic had no complaints about support in Australia, thanks to the many Serbs at Melbourne Park. 'The Djoker' was plagued by hamstring problems at the start of the tournament, but in the end no one was able to beat the record winner at the Australian Open.
Tsitsipás was also unable to keep Djokovic from his 22nd Grand Slam title on Sunday: 6-4, 7-6 (4) and 7-6 (5). "I really try to enjoy moments like this," said the brand new winner. "It's been a long ride. Only my team and family know what I've been through these past four or five weeks. I also want to thank the people who have welcomed me here. There's a reason I'm playing so well in this stadium."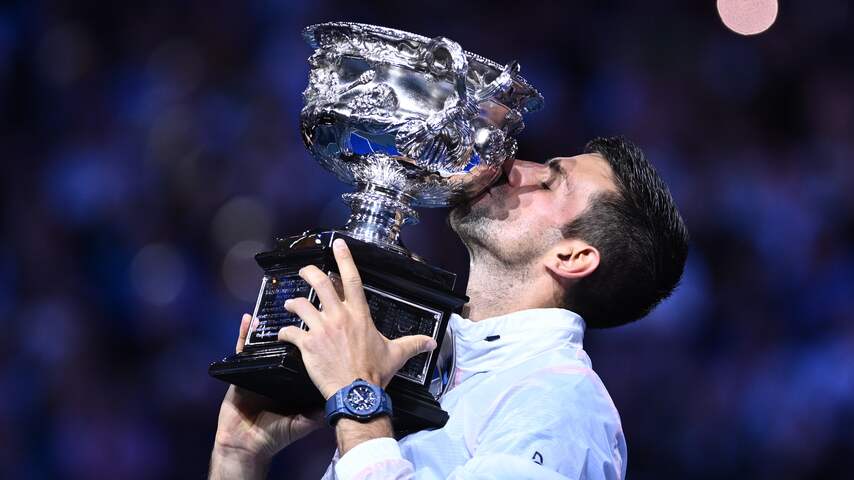 Novak Djokovic captured his tenth Australian Open title and 22nd Grand Slam title. Photo: Getty Images
'The message is: dream big'
Djokovic also had nice words in his speech for 24-year-old Tsitsipás, who played his second Grand Slam final. Just like in the Roland Garros final battle in 2021, the Greek had to acknowledge his superior in Djokovic. He is therefore still waiting for his first major success.
"Greece and Serbia are two relatively small countries without a real tennis history. We didn't really have players to look up to. The message for young tennis players in the world who are watching now is: dream big. Everything is possible and don't let anyone take your dream away said Djokovic.
"It doesn't matter where you come from. The tougher your childhood was, the stronger you are later in life. We are proof of that. Cherish your dream. Water your dream as you water your flowers at home. Also if you find one person in this world to support you, dream big and you can succeed."
Djokovic, who, like Rafael Nadal, now holds a record 22 Grand Slam titles, can call himself the number one in the world again from Monday. The Serbian dethrones Carlos Alcaraz, who was unable to participate in the Australian Open due to an injury.
Jan 29, 2023 at 12:42 PM
Djokovic wins Australian Open for tenth time and equals Grand Slam record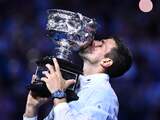 Jan 29, 2023 at 12:48 PM
Djokovic equals Nadal: check out his 22 Grand Slam titles
Beeld: Getty Images
---
Read more about:
TennisAustralian OpenNovak Djokovic
---
---
---
---