The number of victims of chat tricks in Prins-Alexander, Capelle and Krimpen aan den IJssel is rising explosively, to the horror of the police. This month alone, thirteen reports were received from mostly older victims, who were missing valuables after they had let in such an excuse maker. The hope is now that camera images can help the officers to catch the perpetrators.
This article comes from AD Rotterdam. Every day a selection of the best articles from the newspapers and magazines appears on NU.nl. You can read more about that here.
It is somewhat reminiscent of the escapades of the tire picker in the eastern part of the Rijnmond region or the car burglaries in Nesselande. Because those who manage to trick people of age and rob valuables also strike almost daily in the area where about 200,000 people live. The modus operandi is always the same: ring the doorbell with the story that there is a leak or there are problems with the bank account, to make a move once they have won.
Jewellery
In itself, this criminal method is as old as the road to Kralingen, but unfortunately still just as effective. And the perpetrators are getting smarter. "For a while they responded to the corona crisis, and reported to the door with the announcement that they were from the GGD and came to take blood," says community police officer expert Capelle-Zuid Jacques Lems. "Such a figure was then let in. Another crept up behind it to quickly steal jewelry or money. And then take off."
And so these crooks use a whole range of methods to fool unsuspecting citizens in the 60-plus category. Often people from the gullible generation, who still assumed that we have the best for each other. Because it's terrible that the downstairs neighbors suffer from a leak at your place, isn't it? This is called the siphon trick in the jargon. Criminal number 1 disguised as a plumber walks to the bathroom to remedy the so-called problem, criminal number 2 hurries into the house and grabs what he can get.
Pincode
Banking chat tricks are also popular. "Sometimes they call in advance to say there's something wrong with your bank card," he explains. "The message is that a bank employee will pick up the card in no time, including the PIN code. Very cheekily, a code word is then agreed to be sure, in order to generate confidence. And then it's the same sheet a suit Because a little later the account was plundered."
It is a real brain teaser for the local police officers. Because there are hardly any red-handed, and reaching and warning older people is no sinecure, unless the officers personally go through just about all addresses. Another limiting factor is that victims feel ashamed because they have been fooled so much. For that reason they do not dare to go to the police, or do so so much later that it no longer makes sense.
Key question
It is to drive you crazy if you, as a right-minded police officer, want to catch these people in the collar. Lems: "The key question is: how do we get people to understand this? Because we want this to stop. Those affected by this can suffer greatly. Their sense of security has completely disappeared. this has a big impact."
The police in this part of the region have now started an intensive campaign to make as many residents as possible aware of these kinds of dangers. That you never – but never – have to provide bank details by telephone, and certainly not your PIN code. That the bank never sends anyone out to do business at the front door. A Delft Blue-like poster should reinforce this compelling message: 'Water leakage at the neighbors? Yes, you just want to peek into my wallet'.
Gangs
So thirteen reports in January, zero perpetrators caught. In contrast to the tire picker – a loner who roamed around at night – we are probably dealing with different gangs here, who scour the nursing homes and elderly flats independently of each other. Sometimes they don a jacket from a plumbing company or they score a neat jacket and tie, in order to come across as extra credible.
"Because they are older people, we often record the declaration at home," it sounds. "We provide extra care in their familiar environment, and if necessary we also arrange psychological assistance. Helping to block the bank card, things like that. We empathize with them, that also provides a bit of security."
The fact that nowadays many citizens have cameras around the house, and even one at the doorbell, helps enormously in detecting this kind of scourge. "Those recordings are worth gold," says the community police officer. "And with today's equipment, you have very sharp images. And even if someone doesn't have a camera, but the neighbors do, we can also use it. That way we eventually get an idea of ​​what kind of people we are dealing with ."
The call is always to call the police in situations like this, even when in doubt. The holy grail in this genre is when potential victims already sound the alarm, when a fake bank employee has just announced his arrival over the phone. "Colleagues have experienced that. A figure like this came up at the agreed time, and they were ready around the corner. So they were able to take them in immediately."
Education
But for the time being it remains with warnings, by handing out leaflets, sticking stickers and providing information. Hope that children will inform their fathers and mothers of the most common chatter tricks, and that neighbors will also keep an eye out. Lems only shows a text that you can just come across in a Capelle or Zevenkamp flat: 'Don't let anyone in, whatever they come up with'.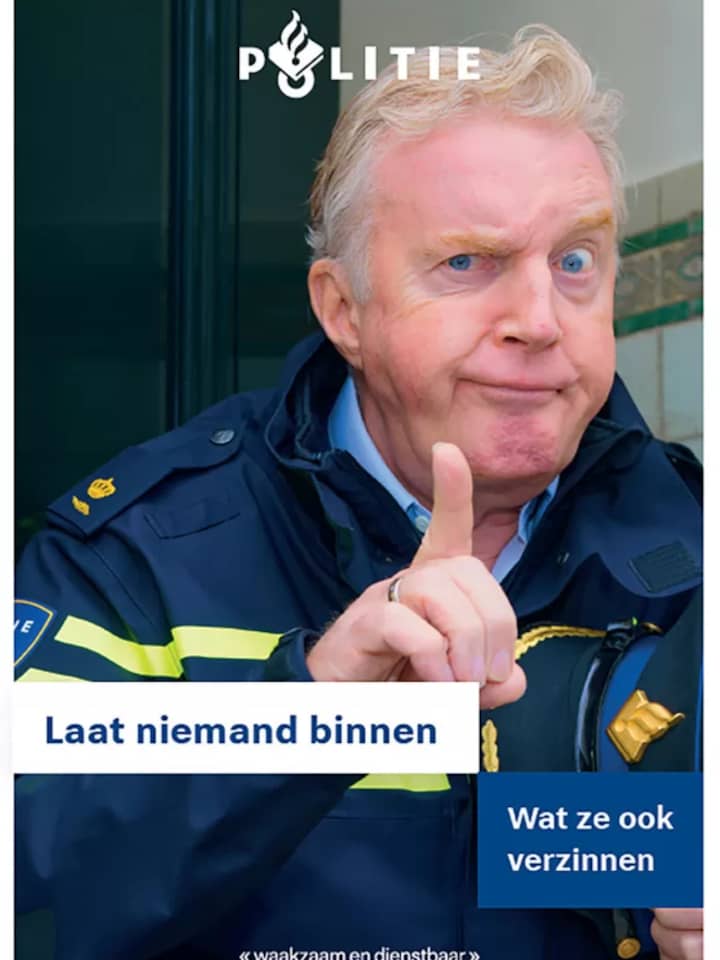 Well-known Dutchman André van Duin has been called in to strengthen the campaign against chat tricks. Photo: Police
---
---