---
Jan 28, 2023 at 5:25 am
Demonstrations are taking place in several American cities in response to images released of the arrest of black American Tire Nichols. The 29-year-old man was killed during the arrest. In Memphis, among others, where the fatal arrest took place, people have taken to the streets. But small-scale demonstrations are also taking place in cities such as New York, Atlanta, Asheville and Sacramento.
Cities in the US had prepared for large protests, but that does not seem to be the case in the hours after the release of the images. The relatives of Nichols and President Joe Biden had called for peaceful demonstrations.
In Memphis, a group of protesters block a highway and bridge over the Mississippi. Long traffic jams have formed there, according to The Washington Post. According to the newspaper, no police are present and the protest is peaceful.
In New York, protests are taking place in Times Square. According to The New York Times, a group of about 200 people was on the move. At least one protester was arrested for smashing the window of a police car. Images on social media show mainly peaceful and small-scale protests elsewhere in the US.
Jan 26, 2023 at 10:45 PM
US prosecutes five police officers for dead black man after arrest in Memphis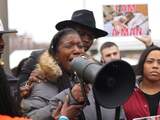 Image: ANP
---
Read more about:
United States Abroad
---
---
---
---