---
Jan 28, 2023 at 6:00 PMUpdate: 2 minutes ago
José Mourinho left the door ajar on Saturday for Rick Karsdorp to return to AS Roma. The right back initially had to leave the Serie A club after a conflict with the Portuguese coach and the club management.
"Karsdorp will be out as long as he wants," Mourinho said at a press conference the day before the game against leader Napoli. "It doesn't take much for him to stay with us, even though he has a small injury. He is still training with the group."
"But someone has been a liar in this process and has spoken badly about the club and manager," Mourinho continued. "We didn't deserve all that. So it's up to Rick whether he returns to us."
Without mentioning his name, Mourinho was probably referring to Karsdorp's lawyer Salvatore Cibale. The counselor said in an earlier interview that the trainer had to apologize to Karsdorp for his lash after the match against Sassuolo on November 9 (1-1).
Mourinho called Karsdorp a "traitor" after that game because he let his man run when he conceded the goal in the final phase. The former Feyenoord player subsequently signed out for the last game before the World Cup break and was also missing on the practice trip to Japan. According to Italian media, this was due to "mental problems".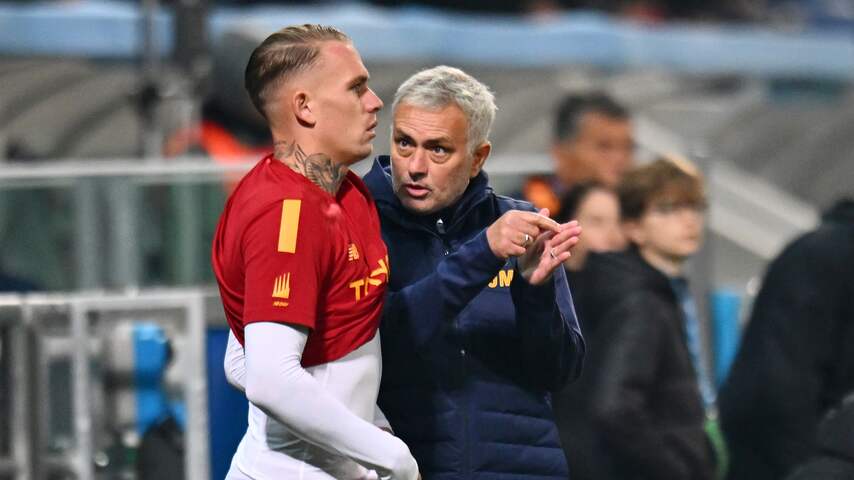 Rick Karsdorp and trainer José Mourinho are in conflict. Photo: Getty Images
FIFPRO spoke of 'bullying campaign'
After an absence of four weeks, Karsdorp returned to the training field on December 12, but the conflict was certainly not resolved. Even the international players' union FIFPRO expressed its displeasure with the way Karsdorp was treated. According to FIFPRO, there was a "bullying campaign".
AS Roma did not have a good word for the statement of the FIFPRO and the interview of Karsdorp's counsel. For that reason, he was put up for sale by technical director Tiago Pinto at the beginning of this month.
Karsdorp has so far not found a new club. The transfer window in Serie A closes at 11:59 p.m. on Tuesday. The former Feyenoord player has not yet spoken publicly about the conflict.
AS Roma is working on a strong series in Serie A. Mourinho's team has not lost six games in a row and occupies fifth place in the Italian league. Number four Internazionale has the same number of points as AS Roma. The numbers one to four qualify for the Champions League at the end of the season.
Beeld: Getty Images
---
Read more about:
AS RomaJosé MourinhoRick KarsdorpVoetbal
---
---
---
---