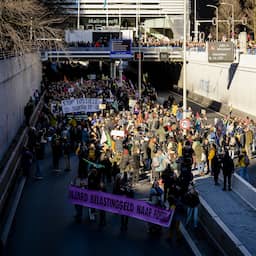 Hundreds of climate activists walked onto the A12 in The Hague around noon on Saturday to form a blockade there. Extinction Rebellion activists marched onto the highway despite police warnings.
Extinction Rebellion said on Saturday morning that it expects more than 1200 people to participate in the blockade of the Utrechtsebaan, at the Ministry of Economic Affairs and the temporary building of the House of Representatives.
The police warn road users on Twitter about the occupation. "Please pay particular attention to your own safety and that of others," the unit writes.
The action led to a lot of social discussion last week. The Public Prosecution Service had six activists arrested last week because they would have been guilty of sedition with their call to action.
After these arrests, many companies said they supported the action. Many celebrities, such as actress Georgina Verbaan, also said they were present at the protest.
---
---