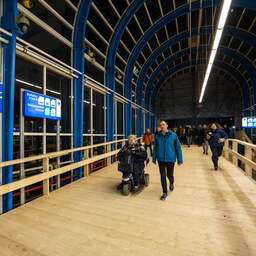 The Nelson Mandela Bridge in Zoetermeer is open again. The bridge, an important bicycle and pedestrian bridge over, among other things, the A12 and the railway, was closed in early December because the construction proved to be too heavy for the support.
The A12 was also closed for a while to replace the bridge, but it had already been reopened to road traffic. From Thursday the train will stop at the station again, the trams of HTM will run again from Friday.
The reason for closing the bridge was two investigations into cracks in the structure. The bridge is an important connection for the city and the only way to get to Zoetermeer station, among other places.
The Nelson Mandela Bridge was commissioned in the early 1990s. It was built partly because of the Floriade horticultural exhibition that was held in Zoetermeer in 1992.
---
---