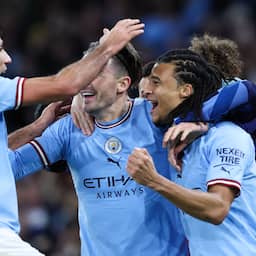 ---
Jan 27, 2023 at 10:57 PMUpdate: 3 minutes ago
Manchester City reached the next round of the FA Cup on Saturday night by beating Arsenal 1-0. Orange international Nathan Aké scored the only goal of the game, making City the first club to qualify for the eighth finals of the oldest cup tournament in the world.
Manchester City and Arsenal are the best performing teams in the Premier League this season. Arsenal are leaders with 51 points, City follows in second place, six points behind.
There was no clear superior team before half-time, although City had the biggest chance of the game. In the eighth minute, top striker Erling Haaland seemed to be able to push through towards Arsenal's goal, but 'cupkeeper' Matt Turner was able to save at the last minute.
After the break, City had the better of the game, but had to wait until the 67th minute for the breakthrough. After a clever action by Jack Grealish, Aké was served in the penalty area. De Hagenaar didn't hesitate for a moment and shot the ball with his right placed in the corner: 1-0. It was Aké's sixth goal in the shirt of 'The Citizens'.
Although Arsenal insisted in the final phase and got another chance for the equalizer through striker Eddie Nketiah, it remained 1-0, so that Aké, who was substituted in injury time, will be recorded as the match winner.
Manchester City and Arsenal meet each other twice in the Premier League. The match will be played in North London on February 15; the match in Manchester is scheduled for April 26.
Watch Aké's winning goal below.
Unfortunately, this content cannot be displayed. We do not have permission for the necessary cookies. Accept the cookies to view this content.
Change cookie settings
Beeld: Getty Images
---
Read more about:
FA CupNathan AkéVoetbal
---
---
---
---