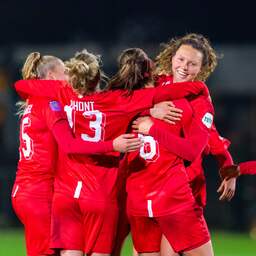 ---
Jan 27, 2023 at 9:29 PMUpdate: 2 minutes ago
Ajax Women and FC Twente Women added three points to the total in the Women's Eredivisie on Friday evening. Partly due to a hat-trick by Fenna Kalma, Twente was much too strong for sc Heerenveen: 7-0. Ajax had more trouble and booked an economical victory over Telstar (1-0).
Top scorer Fenna Kalma was the star in the first half at FC Twente with goals in the fourteenth, seventeenth and nineteenth minutes. The striker scored no less than 33 goals in the Women's Eredivisie last season. In this season, the counter stands at twenty goals in eleven games.
Before the break, Orange internationals Marisa Olislagers and Renate Jansen also scored for the tukkers. In the second half Twente ran out to 7-0, thanks to goals from Naomi Pattiwael and Bente Jansen. Twente thus gave a fitting follow-up to the good form before the winter break, in which it did not lose a single point.
Ajax had more trouble against Telstar Women, but won. After no goals were scored in the first half, striker Tiny Hoekstra broke the spell in the 54th minute. In the end, this turned out to be the winning goal.
ADO Den Haag was in the lead against PEC Zwolle for a long time, but still had to collect the equalizer in the final phase: 2-2.
Ajax and Twente are still joint leaders in the Women's Eredivisie. Both teams have 33 points. Twente needed a match less than Ajax for this.
Standing in the top Women's Eredivisie
1. FC Twente 11-33 (+50)
2. Ajax 12-33 (+33)
3. Fortuna 10-19 (+10)
4. ADO The Hague 12-19 (+11)
5. PSV 10-16 (+4)
6. Feyenoord 10-16 (+0)
Image: Pro Shots
---
Read more about:
Women's footballAjax WomenFC Twente Women
---
---
---
---