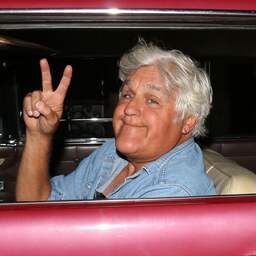 Jay Leno was injured again two months after suffering severe burns in an accident in his garage. This time, the former talk show host and comedian fell off his bike. The 72-year-old American sustained several bone fractures.
The accident happened last week, Leno confirmed in an interview to the Las Vegas Review-Journal. The presenter was testing a vintage engine when he smelled petrol and wanted to stop. "I turned onto a side street and pulled into a parking lot. But unbeknownst to me, someone had put a rope there with no flag on it," explains Leno. "I didn't see the rope until it was too late. I was knocked off my bike."
Leno broke a collarbone, two ribs and both his kneecaps. However, given the circumstances, he is doing well. "I'm fine. I'm back to work," he says.
In November, Leno suffered third-degree burns while working on one of his 180 classic cars. After ten days he was able to leave the burn center again. In a column for The Wall Street Journal, he put the accident into perspective. "Anyone who regularly works with their hands will have an accident. If you play football you can get a concussion or a broken leg. Everything you do is a risk factor."
---
---