---
Jan 27, 2023 at 9:41 PMUpdate: 10 minutes ago
IOC President Thomas Bach believes that Ukraine's position that no Russians should be allowed to participate in the 2024 Olympic Games in Paris is at odds with the Olympic charter. To the dissatisfaction of the Ukrainians, a step-by-step plan has been proposed to reintegrate Russian athletes into global sport.
"The clear starting point is: no Russian or Belarusian athletes," Bach said at a press conference in Oberhof, Germany, on Friday.
But "individual neutral athletes from these countries, without any identification with their nationality" may be able to compete in international competitions in the coming year, according to the IOC president. For the Games of 2024 and the field of participants of that event, the IOC is only at the beginning of extensive consultations.
According to Bach, excluding athletes solely on the basis of their passport does not comply with human rights rules. He said he knows the attitude of the Ukrainian side. They don't just want to isolate Russia as a state, "but a total isolation of all Russians, regardless of their opinion on the war," de Bach said. "That cannot be brought into line with the Olympic charter."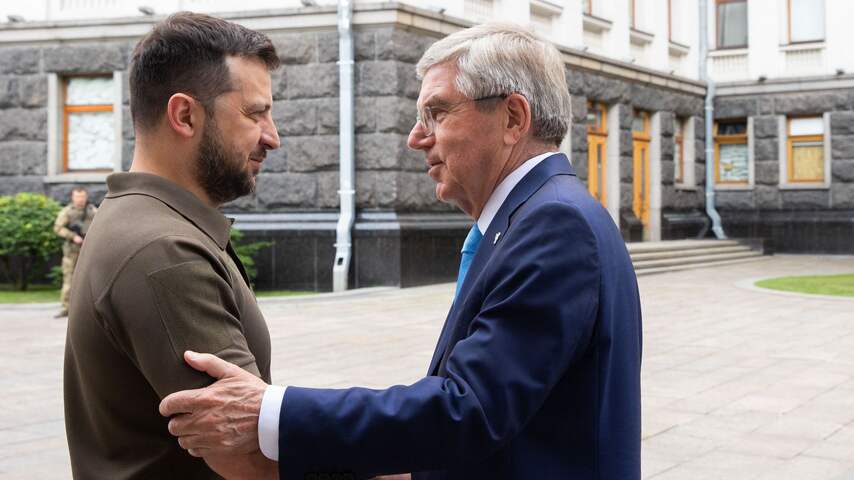 Thomas Bach last summer with Ukrainian President Volodymyr Zelensky. Photo: AFP
Ukraine threatens boycott
Ukrainian Sports Minister Vadym Gutzeit even said on Thursday that his country may boycott the Paris Games if Russian and Belarusian athletes are allowed to participate.
"Our position remains unchanged: as long as the war in Ukraine continues, Russian and Belarusian athletes are not allowed to participate in international competitions," Gutzeit said. "If we are not heard, I do not rule out boycotting the Olympics and refusing to participate."
NOC*NSF indicated on Thursday that it would keep the option open to allow athletes to participate under a neutral flag. The organization did say it had concerns about its implementation and sustainability.
Beeld: Getty Images
---
Read more about:
IOCO Olympic GamesThomas BachWar in Ukraine
---
---
---
---