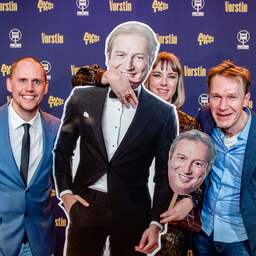 ---
Jan 26, 2023 at 10:23 PMUpdate: 3 hours ago
The radio program Somertijd on Radio 10 won the prestigious Gouden RadioRing on Thursday evening. The presenter of the programme, Rob van Someren, also received the RadioRing Best Presenter award.
It is the second time in the history of the Gouden RadioRing that Somertijd has won the prize. Also in 2013 it was a hit for the program, which was then still heard on Radio Veronica. The program has been nominated four more times in the past five years.
Van Someren himself was not present to receive his prize. He said from his holiday address in Cape Town that he was "sincerely full". "Because I'm incredibly happy for the people I get to make that program with every day," he said.
For the first time since the corona crisis, there was an audience again at the presentation of the awards. The award ceremony took place in pop venue De Vorstin in Hilversum.
It was also the first time that no distinction was made between the best male and female presenter. This led to criticism from, among others, Qmusic radio DJ Marieke Elsinga. She feared that women had less chance of winning the prize now that there is no longer a separate award for female presenters.
NPO Radio 1 wins Marconi Award for Best Channel
Also the programs Aan De Slag! (NPO Radio 2/AVROTROS), Adres Unknown (NPO Radio 5/KRO-NCRV), KINKSTART (KINK) and Spijkers met Koppen (NPO Radio 2/BNNVARA) were nominated this year for the Gouden RadioRing. Last year, the prize went to the morning show Mattie & Marieke on Qmusic.
The RadioRing Best Podcast was for F1 at the Table. The Marconi Award for Upcoming Talent went to Nordin Besling (FunX). NPO Radio 1 won the Marconi Award for Best Channel. Giel Beelen received the Marconi Oeuvre Award in December last year.
Image: ANP
---
Read more about:
Media
---
---
---
---