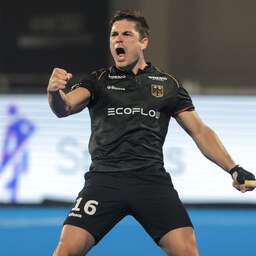 The German hockey players miraculously qualified for the final of the World Cup in India on Friday. Our eastern neighbors settled with Australia in the very last seconds and may meet the Dutch in the final battle.
Germany trailed 2-0 at the halfway point against the Australians and fell behind 3-2 in the dying minutes. One and a half minutes before the end, Gonzalo Peillat equalized from a penalty corner.
With that, it seemed that the semi-final would be decided via shoot-outs, but nothing could be further from the truth. Six seconds before the end, it was Niklas Wellen who gave two-time world champions Germany (2002 and 2006) their first place in the final since 2010.
In the quarter-finals, Germany had already ensured a nice comeback against England. Australia had reached the semi-finals by beating the Spain of former Orange national coach Max Caldas.
The Netherlands hopes to qualify for the final on Friday from 2.30 pm, just like Germany. The team of national coach Jeroen Delmee plays against Belgium, which won the world title five years ago at the expense of the Orange.
It is the fourth time in a row that the Netherlands is in the semi-finals of the World Cup. The last world title of Orange dates from 1998. Silver was won in the last two editions.
---
---