---
Jan 27, 2023 at 11:29 Update: 9 minutes ago
Climate action group Extinction Rebellion (XR) discussed the announced highway blockade in The Hague with the Public Prosecution Service (OM) on Friday. According to a spokesperson for the Public Prosecution Service, nothing has changed in the action.
According to the spokesperson, the consultation was "an exchange of views". "We have expressed our concerns to each other, and that is the only thing. Nothing has changed in view of their action."
Lawyer Willem Jebbink of Extinction Rebellion said after the meeting that he does not want to say anything about the content yet, because it still has to be discussed in the afternoon. Extinction Rebellion has also been in contact with the municipality of The Hague about the consultation.
"We made an attempt to call and this time the phone was answered," a spokesman for mayor Jan van Zanen said. The municipality has asked the action group for information about the demonstration, such as the number of participants, sound and the number of signs and flags. "We are now awaiting the response."
The action group wants to block the Utrechtsebaan in The Hague on Saturday. On one side of the stretch of highway is the building of the Ministry of Economic Affairs, on the other side the temporary building of the House of Representatives.
At least seven people were arrested on Thursday morning because they called on others to join the blockade. According to the Public Prosecution Service, they are guilty of sedition. They have received an area ban, which means they are not allowed to come near the Utrechtsebaan for the next ninety days.
Arrests would restrict the right to demonstrate
According to the activists' lawyer, the arrests are disproportionate. XR and other climate organizations also call it unjustified that the activists were arrested and say that the arrests limit the right to demonstrate.
According to Jebbink, protesters should not be disqualified in advance. Also, only the mayor should be allowed to limit the right to demonstrate.
A spokesman for the Public Prosecution Service emphasizes that blocking a highway for a demonstration is punishable by law. That is why, according to him, there is "no question" of the Public Prosecution Service restricting the right to demonstrate with the arrests.
One of the activists challenged the OM's decision on Friday morning with summary proceedings before the court in The Hague. During that session, lawyer Jebbink announced the conversation. According to him, the consultation with the Public Prosecution Service is intended to "steer everything in the right direction".
Jan 19, 2023 at 4:33 pm
From Shell to Extinction Rebellion: they resigned for the climate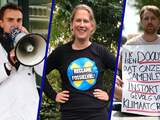 21 Sep 2022 at 15:45
Activists Extinction Rebellion block A12 in The Hague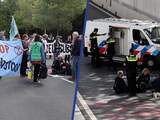 Image: ANP
---
Read more about:
ClimateInlandExtinction Rebellion
---
---
---
---