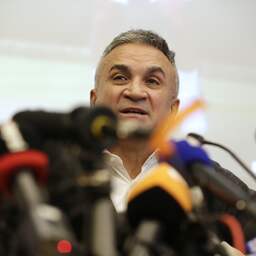 Srdjan Djokovic, Novak Djokovic's father, will not be present at his son's semifinal at the Australian Open in Melbourne on Friday. There has been considerable criticism since Thursday after he posed in Melbourne with supporters of Russian President Vladimir Putin.
After Djokovic's quarterfinal match against Russian Andrey Rublev, a group of fans outside the Rod Laver Arena chanted the name of Russia, Serbia and Putin. Among other things, a Russian flag with the image of Putin was shown.
Images later emerged of Srdjan Djokovic posing as the man holding Putin's flag. He came in for a lot of criticism. The Ukrainian ambassador to Australia, among others, did not have a good word for it and asked to exclude the 62-year-old Djokovic from the tournament.
"It was never my intention to cause such a disturbance. My family has also experienced the misery of war and we only hope for peace," says the tennis player's father about the video in which he is seen with a Russian flag could be seen.
"There will be no disruption to the semi-final tonight for my son or the other player, I've chosen to watch it at home. I'm hoping for a good game and, as always, will be cheering for my son."
Novak Djokovic will play against American Tommy Paul in the semifinals on Friday. If he wins the Australian Open, he will equal record holder Rafael Nadal with 22 Grand Slam titles.
---
---