James Cameron makes history once again. The filmmaker now has three of the five greatest films of all time to his credit, each made in a different decade: Titanic (1997), Avatar (2009) in Avatar: The Way of Water (2022).
On to spot #4
Avatar: The Way of Water has overtaken Avengers: Infinity War and is now number 5 on the list of highest-grossing films of all time. To date, Cameron's latest production has grossed $2.055 billion worldwide. Avatar: The Way of Water is moving up quickly and the film is expected to move up one more spot in the ranking before the end of the week. The film may still make it in a few days Star Wars: Episode VII – The Force Awakens (2015) in. 8.4
Avengers: Infinity War (2018)
Watch on Disney+ • Four years after the events of 'Guardians of the Galaxy Vol. 2 'Peter Quill and associates join forces to counter a new threat together with the Avengers:
Beaten by ex-wife
The second Avatar film was nominated for four Oscars last Tuesday, including best picture of the year. Avatar and Titanic were also nominated for this ultimate prize. Unfortunately for Cameron, Avatar was defeated by The Hurt Locker (2008), directed by none other than Cameron's ex-wife Kathryn Bigelow.
The future of the franchise
Avatar: The Way of Water has a long way to go before it overtakes Avatar and becomes the highest-grossing movie ever. Avatar leads with revenue of $2.9 billion. It should not spoil the fun, because the second part is nevertheless successful enough to continue the plans for the third, fourth and fifth films. These films will be released in 2024, 2026 and 2028 respectively.
I know what I'm going to be doing for the next six or seven years. Obviously I can't make unlimited Avatar movies given the amount of energy it takes. I should train someone on how to do this because I don't care how smart you are as a director, you don't know how to do this.

James Cameron
Does Cameron relinquish Avatar?
The director admits to having fantasized about an Avatar 6 and Avatar 7 himself, but then he would indeed consider passing on the directing torch. To whom the torch should be passed on, the director did not say.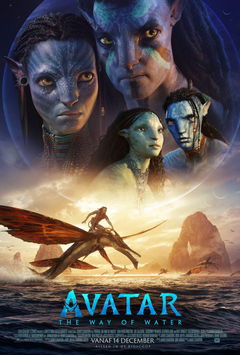 7.8
Avatar: The Way of Water (2022)
Avatar: The Way of Water takes place more than ten years after the events of the first film. The film tells the story of the Sully family (Jake, Neytiri and their children) and the challenges they encounter, the efforts they make to protect each other, the battles they face to stay alive and the tragedies that they endure.
Avatar: The Way of Water is now in theaters.
Beeld: Copyright The Walt Disney Company, 2022
---