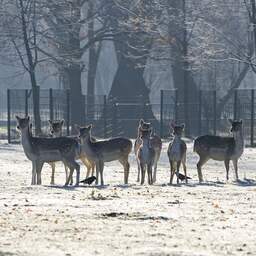 The cabinet is sticking to the plan to close deer camps. From January next year it is forbidden to breed with the deer. But the deer parks don't have to close right away; they may remain open until the last animal has died.
Minister Piet Adema (Agriculture) emphasized on Thursday that it is about the welfare of the animals. "The animal is meant to run free in nature," he said.
On 1 January next year, the government will introduce a list of hobby and pets that may be kept. There are thirty animals on that list, but deer are not included.
This means that deer can no longer be used for breeding. To accommodate the few hundred deer parks in the country, businesses don't have to close by that date just yet.
There is support for Adema in the Chamber. SGP and PVV turned against the decision during the debate. Roelof Bisschop (SGP) does not find the story convincing. According to him, fallow deer have been kept in deer camps for centuries. He finds the list of animals that may be kept arbitrary and opaque.
---
---